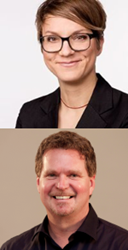 Sezzle has their timing right. Their platform is exciting for both merchants and consumers, which is what I find intriguing and what drew me in as an advisor.
Minneapolis, MN (PRWEB) July 19, 2016
Sezzle Inc. announced the engagement of two former PayPal executives to help Sezzle create a next generation payment platform.
Scott Guilfoyle, PayPal SVP and CTO from 2008 to 2012, joins as an advisor to the company. Scott also served as the CIO of LendingTree, CIO of Consumer Products at Bank of America and as the CIO of General Electric. Scott's vast and pertinent experience in the financial services arena should prove to be a major asset to Sezzle as it builds out its payment platform.
"We couldn't be more excited to have Scott on board as we take on the giants of payment processing," said Paul Paradis, CBDO of Sezzle. "His insights from his work at PayPal are going to help us tremendously as we grow and disrupt our industry."
Scott Guilfoyle echoes the excitement, "Sezzle has their timing right. Their platform is exciting for both merchants and consumers, which is what I find intriguing and what drew me in as an advisor."
In addition, Sezzle has brought on Annick Fuchs, former Head of Legal at PayPal, as a legal advisor. Annick left PayPal in 2016 to start fuchsLAW, a law firm specializing in advising young, disruptive companies.
"The Sezzle team reached out to fuchsLAW when they noticed my experience in payments and FinTech. I am excited to add Sezzle to the firm's portfolio. The plans and stage of the company match perfectly with what we specialize in at fuchsLAW," said Annick.
Charlie Youakim, CEO of Sezzle, concurred, "Annick and her firm are a strong asset for Sezzle. Her firm will help us avoid pitfalls and set our company up for a successful run in payments."
The pair of former PayPal executives joined Sezzle in July and say they are excited to watch the company grow.
Sezzle is reinventing consumer to business payments, one payment at a time. It is leveraging new authentication technology with banks to gather account information and complete bank-to-bank transactions instantly. Its payment platform allows businesses and e-commerce platforms to simply and securely leverage Sezzle's payment capabilities to accept electronic debit payments, without the transaction fees and pain of accepting traditional card-based payments. Sezzle's rewards programs incentivize consumers through an enticing cash back offer and mobile-based payment experience. Learn more at https://sezzle.com.
​fuchsLAW was founded in 2016 in the Silicon Valley to offer innovative legal services to innovative companies. Entrepreneurs themselves, fuchsLAW advises their clients from a peer to peer level.. With more than 10 years of experience, fuchsLAW provides cutting-edge legal service to startup clients in the fintech or other disruptive tech innovation spaces. fuchsLAW lawyers were trained in the top law firms in the US and Europe and in billion dollar tech companies as in-house lawyers. As such fuchsLAW offers legal advice that not only provides legal services within the US and Europe but also bridges in-house lawyer experience and law firm experience to bring the best of both worlds to the table when advising their clients. Learn more at http://www.annickfuchs.com.