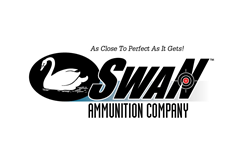 We want to provide a quality product at a fair price, and have the dealer network to back it up.
Buckhannon, West Virginia (PRWEB) August 09, 2016
The Swan Ammunition Co. is now extending dealer opportunities to businesses and individuals who are interested in selling the company's line of ammunition products. The dealer opportunities Swan is providing are suitable for dealers both large and small, and are the opening phases of the company's push to begin sales of its ammunition in the U.S.A.
The company currently produces a line of .223 ammunition for the Tactical, Hunting, and Sport shooting markets, and will soon be expanding its production into several of the popular pistol calibers such as 9mm Luger and 45ACP. Swan's ammunition is manufactured in the USA, and is designed for mid-range ammo markets where quality takes precedence over quantity.
"We want to provide a quality product at a fair price, and have the dealer network to back it up," says Jason Rohr, founder of the company. "We also want our ammunition products to be available to dealers of all sizes, including the little guy," says Rohr.
Swan's plans are not just limited to the more popular caliber either—the company plans to release a line of hunting ammo for mid-size North American game in 2017 as part of it's plans to expand it product lines, and build versatility into it's dealer network.
"I think this is a great opportunity for anybody who wants to become an ammo dealer. We are looking for responsible individuals and business who are passionate about this industry and what we do here. Size doesn't matter—we want the opportunity to work with anyone interested in being a dealer who will faithfully represent our product."
Rohr says the dealer opportunity is perfect, regardless of whether someone wants to offer the company's products as a stand-alone business, or as a supplement to an existing product line.
Anyone wishing to sign up as a dealer can contact the company through its dealer website at http://www.swanammodealer.com by filling out and submitting the form at the bottom of the page.