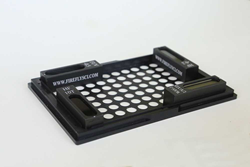 Brooklyn, NY (PRWEB) July 15, 2016
FireflySci, Inc. has been pumping out new products like crazy since they were founded in 2014. They first started with making spectrophotometer cuvettes which had superiority in both price and functionality. Next came their lean and mean line-up of spectrophotometer calibration standards that never needed recalibration. Now the engineers at FireflySci are delivering a full line of 96well plate adaptors and calibration standards for all plate readers.
For years now, there has been a gaping hole in the plate reader calibration field. Researchers have had to rely on tremendously expensive products from the plate reader manufacturer to check to see if their machine was working properly. This caused scientists to be at the mercy of the plate reader manufacturer and they had to pay whatever was demanded to make sure their data wasn't going in the trash.
Thanks to FFS researchers can choose from a large variety of items to calibrate their plate readers. FFS has manufactured products that can calibrate for photometric accuracy, wavelength accuracy, fluorescence, and luminescence. The best part is that scientists can mix and match what standards go into the calibration test plate.
Just like FireflySci's spectrophotometer calibration line, their 96well plate line has many options to suit all needs and budgets. A researcher can test exactly what range they need to calibrate for. FFS's calibration plates can cover the VIS range or both the UV and VIS range for photometric and wavelength accuracy.
The best part about this is the stellar service that customers get from FireflySci. All of FFS' customers know that they won't sell them something they don't need. FFS does not "upsell" their products to make more money, they are based on principals of honesty and doing what is right by people.
FireflySci has also designed a 96well plate adaptor that can be used in virtually any well plate reader. The nice bonus about this adaptor plate is that if a scientist already has spectrophotometer calibration standards from FFS, they can use the adaptor plate to use those same standards to calibrate their plate reader. This is a tremendous savings in both time and money.
FireflySci is fired up about these new 96well plates. They are already receiving orders for them from scientists who are tired of getting ripped off with other calibration methods. The folks at FFS are encouraging people who have 96 well plate readers to reach out to them to ensure they are getting the absolute best calibration solution for their machine.
For more information visit http://www.fireflysci.com.