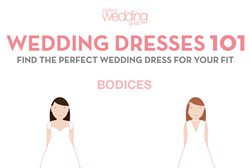 Lake Mary, Florida (PRWEB) July 15, 2016
Perfect Wedding Guide released it's latest infographic on Thursday, July 14, 2016. Wedding Dresses 101: Find the Perfect Wedding Dress for Your Fit, provides brides-to-be a visual look at different necklines and dress bodices all of which are suited for different body shapes.
Brides can find the infographic on social media platforms including Twitter, Facebook, Google+, Pinterest and on Perfect Wedding Guide's blog, Head Over Heels.
Aside from our readers, we hope this is infographic is something that your readers will find relevant. If it is, we would love for you to feature it on your site/blog. All we ask is that you provide the following link back to Perfect Wedding Guide.
About Perfect Wedding Guide:
For over 24 years, Perfect Wedding Guide has been dedicated to creating innovative wedding planning solutions for brides of all budgets. Our company offers couples fun, useful, and FREE products to help make wedding planning less of a chore and more of a treat. Our local guides and bridal shows are available coast-to-coast in over 20 markets, showcasing some of country¹s top wedding vendors who work right in the bride¹s backyard. Our national website, PerfectWeddingGuide.com, is full of fresh planning tips and wedding ideas, wedding news, an extensive photo gallery for inspiration, easy-to-use wedding planning tools, as well as a wedding blog community hosted by our national wedding planning expert.