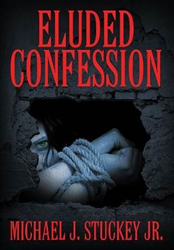 "This thriller will knock your socks off! We are especially pleased to announce its release." - Robert Fletcher, CEO of Strategic Book Publishing and Rights Agency
(PRWEB) July 19, 2016
An insatiable, sadistically motivated sociopath tells his own story detailing the last 10 years of his life, and what he "teaches" his victims in their own homes and in his sub-basement horror chamber.
When a drifter stops at a cops' bar in small town America, he begins describing in graphic detail how a man murdered 13 families, plus a cop and a 16-year-old girl. He embellishes the heinous acts committed, saying no evidence was left behind, except for a symbol carved into the back of the victims' necks. He tells his audience that the serial killer also takes tokens of his victims for keepsakes, and has been holding another teenage girl prisoner for the past 10 years.
Is he the killer? And is he telling the truth?
"Eluded Confession" takes readers into the twisted mind of a killer and will rock the foundation of anyone who thinks he is safe.
"This thriller will knock your socks off! We are especially pleased to announce its release," said Robert Fletcher, CEO of Strategic Book Publishing and Rights Agency.
ELUDED CONFESSION (ISBN: 978-1-68181-379-0) is now available for $26.95 and can be ordered through the publisher's website:
http://sbprabooks.com/MichaelJStuckeyJr or at Amazon.com or Barnesandnoble.com.
About the Author: Michael J. Stuckey Jr. grew up in Middletown, New Jersey. He is retired and currently lives in a quaint little town in Kentucky, where he is the proud owner of an up-and-coming, self-sustaining hobby farm. The author has been writing for 30 years and this is his third book. He has several other books in the works, including the sequel to "Eluded Confession."
Author's website: http://www.ardentwriter.com
WHOLESALERS: This book is distributed by Ingram Books and other wholesale distributors. Contact your representative with the ISBN for purchase. Wholesale purchase for retailers, universities, libraries, and other organizations is also available through the publisher; please email bookorder(at)sbpra(Dot)net.