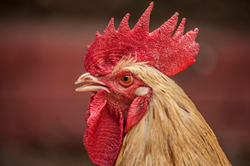 ...cottontail rabbits and striped skunks can transmit certain strains of the bird flu virus...
Chicago, IL (PRWEB) July 15, 2016
In a recent blog post, Bird-X examines evidence that small pest animals, such as rabbits or skunks, can carry Avian influenza, or 'bird flu,' a discovery that could explain how a 2014 outbreak killed nearly 50 million birds so quickly.
One study by the National Wildlife Research Center (NWRC) revealed that cottontail rabbits and striped skunks can transmit certain strains of the bird flu virus to mallard ducks after sharing food and water sources. This finding only highlights the importance of keeping wild birds and pest mammals away from poultry barns.
"When wildlife and poultry interact and both can carry and spread a potentially damaging agricultural pathogen, it's cause for concern," NWRC biologist Jeff Root said.
According to Fortune, the 2014 bird flu outbreak forced poultry industry to price meat and eggs at record highs. The most common strain of bird flu, H5N1, is deadly to birds and can easily infect humans that come in contact with a carrier.
In order to prevent the spreading of bird flu, Bird-X recommends that farmers minimize risk by ensuring that wild birds and mammals are kept away from poultry barns. Bird-X offers bird and pest control products that are extremely effective, safe, humane, and eco-friendly—while avoiding the use of dangerous poisons and traps. Products like Bird-X's bird netting, which completely blocks pests from entering an area, or visual scares that create a threatening environment for pests, force pest animals to seek refuge elsewhere.
Bird-X has been the world's leading brand in humane bird and pest control since 1964, and is dedicated to protecting human health, wildlife, and the environment. They manufacture a complete line of unique pest control products with an unmatched focus on quality, efficacy, and customer service. For information on any Bird-X's humane pest control products, please call customer service at (800) 662-5021.