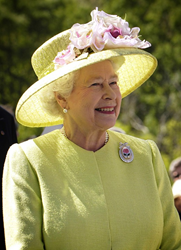 After we got a look at this new collection we had to do something to honor the styles of both the past and present.
(PRWEB) July 19, 2016
In an upcoming exhibition, set for July 23rd, the Queen Elizabeth, will be displaying some of her most elegant dresses, hats, and other articles of clothing over the past 90 years of her life. After seeing a sneak peek released by Forbes, Turquoisejewelry.com Spokesman, Jack Burch, couldn't help but notice one interesting detail about the collection.
Burch stated, " After looking at the wonderful photos of opulent pictures and the row of cloths that were being pristinely set up for the public to see, many of her outfits use wither turquoise, a royal blue, or soft pastel yellows. These seem to be the styles that people are embracing in 2016 as well, especially the pastels. After we got a look at this new collection we had to do something to honor the styles of both the past and present."
The team at TurquoiseJewelry.com has worked tirelessly over the past few weeks, meeting with the talented artists they represent to bring about a new release of jewelry that incorporates these classic color palates with the most modern designs that people are flocking to today. Burch and his team have provided the perfect pieces to go with the royal style.
TurquoiseJewelry.com's Royal Fashion Release
In many of the photos seen online the queen can be seen in soft blue or turquoise dresses with matching hats. Matching alike colors is the perfect way to accessorize, TurquoiseJewelry.com recommends turquoise bracelets to continue the flow of color throughout the wardrobe, just as the queen has her hats, and people can have some modern jewelry styles to achieve the same stunning result.
The Queen often takes advantage of her high status with some Royal Blue tones. Lapis Lazuli is the perfect stone to go with this style. The dark blue colors complement one another quite nicely and the clear sheen of Lapis is also a good way to captivate the crowds. The Princess, Kate Middleton, also seems to be taken by the royal blue color as well.
For the soft and pastel colors that the Queen usually wears, Mother of Pearl is a nice way to gently transition from the pastel clothing to a whiter color, blending perfectly into the wardrobe in the process.
Burch and his team at TurquoiseJewelry.com expects the exhibition to be a huge success and hope more people will realize that some styles never fade, they are just repurposed into more modern designs. Burch believes that this new release of jewelry is the perfect combination of past styles and modern designs, creating something truly unique.