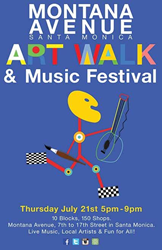 "Montana Avenue has always embodied such a strong family feel. Not only is it a true pleasure to be among such a wonderful community, but also an honor to be able to give back to our beloved clientele and to those less fortunate." -- Sandra Miller
(PRWEB) July 18, 2016
With a commitment to community, premium lifestyle real estate brand, Engel & Völkers Santa Monica, joins the annual Montana Avenue Art Walk with an event to benefit a beloved local charity.
The afternoon will include an exhibition of exquisite pieces by artist Amadea Bailey, as well as a fantastic selection of prizes as part of a raffle. Bailey has generously contributed one of her beautiful paintings valued at $500 to the raffle, of which all of the proceeds will be donated to One Voice. A non-profit organization helping families living at poverty level, One Voice provides programs ranging from emergency relief services to scholars programs in efforts of bettering the quality of people's lives.
"Montana Avenue has always embodied such a strong family feel," says Sandra Miller, Engel & Völkers Santa Monica License Partner. "Not only is it a true pleasure to be among such a wonderful community, but also an honor to be able to give back to our beloved clientele and to those less fortunate."
The Art Walk will take place on Thursday, July 21st from 5:00 to 9:00 pm, where Engel & Völkers guests will be treated to gourmet bites, sponsored by Montana Avenue favorite, Ox & Son, as well as small batch wines by Rudius and Praxis wineries in Napa and Sonoma counties. Further details and raffle updates can be found on http://www.MontanaAveArtWalk.com leading up to the event.
About Engel & Völkers
Since its beginning in 1977 as a specialty boutique providing exclusive, high-end real estate services in Hamburg, Germany, Engel & Völkers has become one of the world's leading companies specializing in the sale and lease of premium residential and commercial property, yachts and private aviation. Engel & Völkers currently operates a global network of over 7,000 real estate advisors in more than 700 brokerages spanning 37 countries across five continents, offering both private and institutional clients a professionally tailored range of luxury services. It established its North America corporate headquarters in 2007 and opened its first brokerage in the same year. Committed to exceptional service, Engel & Völkers supports its advisors with an array of premium quality business services; marketing programs and tools; multiple platforms for mobile, social and web; as well as access to its global network of real estate professionals, property listings and market data. Engel & Völkers is an active supporter of the Fair Housing Act and the Equal Opportunity Act. Each brokerage is independently owned and operated.
# # #
For more information please contact:
Sheela Shouhed
Director of Communications
Sheela.Shouhed(at)evusa.com