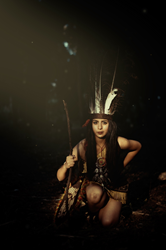 Some stores will have a generic Native print or symbol but have no idea what it means or what tribe it's from.
(PRWEB) July 22, 2016
Over the past year, Native American fashion has made great strides to become a well-respected contemporary movement. Top fashion designers are starting to give credit to their Native designers and retail stores are displaying more and more of the new take on Native American fashion. With these new waves of art and fashion becoming more prevalent in society, one individual has taken it upon herself to prepare people looking to get started with the new fashion trend that honors both culture and spirit.
Joy Cook, spokesman for the popular fashion blog site, NativeAmericanTurquoiseJewelry.net, gave a statement with the release of her new Guide. "I think many people have a misconception of what Native art and fashion really mean. Some stores will have a generic Native print or symbol but have no idea what it means or what tribe it's from. That's a shame to me because authentic Native fashion can be so beautiful and give people a unique look."
NativeAmericanTurquoiseJewelry.net is dedicated to proving its readers with updates on both fashion and news for Southwest, Native American, and turquoise fashion. Her articles include everything from celebrities wearing these styles to news about Native American art.
Her "Native American Style Guide," features some powerful tips that are easy to remember. At the article's core is one guiding principle that Cook wants to get across. "I think the most important thing to look at when buying Native American pieces is who made the product and do they work in an environment that gives them free range to represent that culture in their art?"
Cook makes recommendations in her articles about which sites she has tested and trusts to deliver these principles and knows that Native American artists put their heritage into each piece that is made. Her guide urges consumers to look at the patterns, designs and look into their meanings to truly appreciate these fashions as well.
Anyone interested in learning more about Native American culture and fashion is encouraged to visit NativeAmericanTurquoiseJewelry.net, Cook added.