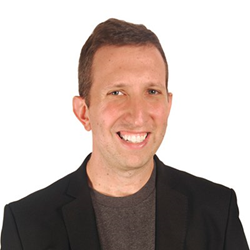 This eBook is a small teaser of what Dave will teach accountants about how to utilize social media in a way that attracts clients versus just trying to sell clients online. Social media is a platform that is meant to engage, and Dave knows just how
Portland, Maine (PRWEB) July 15, 2016
Accountex released a free eBook The Ultimate Social Media Guide for Accountants by Dave Kerpen, CEO of Likeable Local, now available for download. The master of social media explains how accounting professionals can leverage social media to create lasting relationships, drive engagements, and best practices for online platforms.
As one of Entrepreneur Magazine's Top 10 Up and Coming Leaders, Dave Kerpen has been featured on: CBS The Early Show, CNBC, BBC, ABC World News, and featured in the New York Times as well as countless blogs. His 1st book, Likable Social Media: How to Delight Your Customers was on the NY Times bestseller list and is now in its Second Edition. Kerpen will be keynoting the 13th annual Accountex USA conference and expo in Las Vegas, Nevada in November. His general session will be on The Likeable Accountant which explores how accounting professionals can utilize social media with actionable advice that can be implemented immediately to make a firm more likable, which means more profitable.
"This eBook is a small teaser of what Dave will teach accountants about how to utilize social media in a way that attracts clients versus just trying to sell clients online. Social media is a platform that is meant to engage, and Dave knows just how to do that." RD Whitney, Executive Director of Accountex and author of the eBook forward, continued: "Creating a social strategy is vital, and in this eBook you will find the secret to social media is in the social aspect more than in the all too focused on, media facet."
Accountex, the leading independent conference on accounting technology, provides a four-day schedule focused around the solutions that move accounting forward. The educational conference offers CPE with content from more than a single vendor perspective. Sessions are taught by experts, resulting in a high-caliber learning experience with real-world lessons and practical takeaways that can be implemented seamlessly.
The Accountex expo brings together the largest selection of technology solutions and offers professionals in-person time to learn about the latest upcoming trends. The conference is the premier event of the year for the accounting professional and add-on developer community. Accountex will be held at the Mirage Resort and Casino in Las Vegas, Nevada, November 15-18, 2016. Registration is open at AccountexUSA.com.
About Accountex
Accountex is the leading independent expo and conference focusing on accounting technology. Accountex USA focuses on the technology that moves accounting forward as well as the business processes and organizational success needed in the marketplace. It is an independent conference, which means that it offers more than one viewpoint of solutions. Accountex features the most accounting technology solutions at one major event, plus latest trends and the traditional technologies that still dominate, without any focus on a singular suite of products. http://www.accountexusa.com. ###