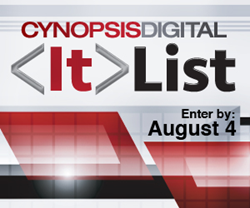 New York, NY (PRWEB) July 15, 2016
Cynopsis Media announced the call for entries for the Digital "It List," celebrating innovative executives in digital media who excel in digital content, marketing, advertising, social media, and online content. Entries are being accepted through August 4. Winners will be announced mid-September and will be celebrated at the Digital Awards ceremony hosted in New York City on November 4, 2016.
"The nature of the digital industry is such that it attracts people who are savvy, daring professionals, unafraid to challenge the status quo," says Robbie Caploe, Publisher of Cynopsis. "We felt it was time to recognize these superstars; we all have a lot to learn from them."
The honors are presented by Cynopsis Digital, one of the industry's most trusted brands for professionals in TV and online video content creation, distribution, media buying and planning, ad sales, technology, research and marketing. The "It List" is open to all individuals and teams worldwide who are impacting the discipline of digital media including: digital media publishers, TV and online video networks, MSOs, studios, production companies, producers, brands, ad agencies, interactive media agencies, ad platforms, technology providers, developers and marketing and PR firms. Vendors are also eligible to compete on behalf of a client.
For more information visit http://www.cynopsis.com/event/cynopsis-digital-it-list/
Winners will be celebrated at an awards reception on November 4, 2016 in NYC and profiled in a special edition of Cynopsis Digital. For entry questions, contact Marketing Manager Sarah Martinez at sarah(at)cynopsis(dot)com. For advertising or sponsorship information, contact VP of Sales & Marketing Mike Farina at mike(at)cynopsis(dot)com.
About Cynopsis Media:
Cynopsis is what the TV industry reads first every day. The Cynopsis family of products includes the media industry's most-read daily, Cynopsis, plus sister dailies Cynopsis Digital and Cynopsis Sports, the Cynopsis Jobs board and special reports. Serving TV, agency and brand professionals, Cynopsis Media produces conferences, webinars, and awards programs that are second to none. Find out more at cynopsis.com.
##