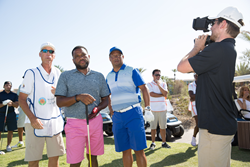 (PRWEB) July 18, 2016
The 3rd annual Coach Woodson Las Vegas Invitational presented by Cox Communications, the ultimate luxury weekend hosted by Assistant Clippers Coach Michael Woodson was a huge success, helping to raise funds and awareness for Nations of Coaches. The event, co-hosted by ESPN SportsCenter Anchor, Jay Harris and Professional Golfer and Fashion Designer, Seema Sadekar, was held at The Mirage Hotel and Casino with golf at Reflection Bay Golf Club.
"This year's event was really incredible, we enjoyed an amazing red carpet and celebrity pairings party at 1OAK and closed out with a performance by Mya. It has been a dream of mine to have a Coaches Forum, and this year we added that to the annual Woodson Youth Clinic at Impact Basketball," said Coach Woodson. "I'd like to thank all our sponsors, celebrities and guests for joining us and helping us make this event such a success. Having a good coach in your life is really the most important thing and I'm so proud of what we have done to support coaches around the country through this event."
On Sunday July 10, the star-studded Woodson Gala, Red Carpet & Pairings Party at 1 OAK presented by The Mirage Hotel & Casino, 1bid1.com, Monster Cables and Zacapa Rum brought NBA Coaches, Legends, current players and executives together to celebrate and prepare for a wonderful day of golf. Monday, July 11, opened with an unforgettable National Anthem performance by Jeffrey Osborne overlooking Lake Las Vegas at Reflection Bay Golf Club. After the golfers teed off, the ladies enjoyed a Tea and Soul Food Experience in the Reflection Bay Clubhouse presented by Corona. After the round gathered around the tough 18th hole to watch The Woodson Playoffs, presented by The Los Angeles Clippers.
The Woodson Playoffs took the top-3 celebrity teams along with one amateur golfer from the group to go to the 18th Hole for an alternate shot competition. This year the top three celebrities respectively were Anthony Anderson, Mike Woodson and Reggie Theus, as an added bonus, the last place team, led by actor and comedian Chris Tucker, joined the Woodson Playoffs.
"It was the most amazing event that Reflection Bay has hosted to date," said Ryan Darland, Head Golf Professional at Reflection Bay. "The amount of laughter, energy and fun was incredible, I have never seen anything like it and the playoffs definitely made for great entertainment."
Anderson, Tucker and Theus all carded a six, while Woodson carded a seven on the challenging 537-yard par 5 that is surrounded by water. Anderson eventually won the Woodson Invitational in a sudden-death 100-yard celebrity shootout against Tucker and Theus, putting his shot 10 feet from the pin. Anderson gave a speech in the clubhouse that demanded applause, laughter and a guarantee of holding the title for next year. Woodson Best Dressed awards were won by David Justice and Omorosa Manigault and The Woodson Long Drive winner was LA Clippers Head Coach Doc Rivers.
Celebrities that walked the red carpet and attended this year's events included:
Mya, Head Clippers Coach Doc Rivers, Actors Anthony Anderson, Cedric The Entertainer and Alan Thicke, 2016 NBA Championship Team Head Coach Tyronn Lue, 2016 NBA Championship Team Assistant Coach Larry Drew, father and son NBA stars former and current NBA players Gerald Henderson Sr. and Gerald Henderson Jr., Actor and Comedian, Chris Tucker, NBA Legends, John Starks, Larry Johnson, Eddie Johnson, Jimmy Jackson, Clippers Assistant Coaches Armond Hill, MLB Star and Legend, David Justice, Former Lakers Head Coach, Byron Scott, Boxing Champion, Winky Wright, Sportscaster Mike Hill, actor: Flex Alexander, Political Personality, Omarosa Manigault and music icons Tony Cornelius and Jeffrey Osborne and actors: and many more.
ABOUT PGD GLOBAL
Play Golf Designs, Inc. (PGD Global) is a golf marketing & event company, directing and participating in luxury events for some of the world's most legendary athletes, entertainers and organizations including Coach Mike Woodson, Julius Erving, Jeffrey Osborne, The Broadcasters Foundation of America, Jerome Williams, Reggie Jackson and Ahmad Rashad. PGD blends pop culture and entertainment, creating the most unique, innovative golf events and experiences for each client. PGD Global focuses on celebrating diversity and inclusion in golf while welcoming women to the game with open arms. Specializing in connecting golf to the modern world of trends and fashion, PGD Global operates golf and lifestyle events and experiences all around the country, welcoming new golfers and businesses to the game. http://pgdglobal.com/. Tweet or Instagram @PGDGlobal or Facebook http://www.facebook.com/PlayGolfDesigns