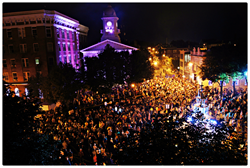 1864 celebrates the rebirth of the town and the spirit of the people, who brought Chambersburg to life."
Franklin County PA (PRWEB) July 15, 2016
1864 Weekend began as a kick-off event for Civil War 150 in 2011. Partnering with nearby Gettysburg PA, Franklin County highlighted its significant Civil War history. Over the past five years, the event continues to grow as a celebration of the spirit of people and community.
In 2015, the event added a musical competition called A Cappella & Unplugged with auditions and three rounds of competition. A Cappella & Unplugged is back for this year's events, too. Three finalists—Admiral Mouse, Country Bumpkins, and Kate & Isaac will perform, beginning at 7 PM on Saturday, July 16, on the steps of the 1865 Franklin County Courthouse. The public picks the winner through a combination of Facebook likes and votes cast at the event, and the winner receives $500.
The Courthouse steps are also the stage for the 1864 burning event, creating a truly authentic backdrop, for the re-enactment done totally with lights and atmospheric effects. On July 30, 1864, Confederates demanded a ransom of $100,000 in gold or $500,000 in Yankee dollars or Chambersburg would be burned. The town was unable and unwilling to deliver the money, and the center of Chambersburg was fired. More than 2000 people were homeless and over 550 structures burned. Yet, the town returned, stronger than ever, and this is the basis of the annual celebration. It is a tribute to the strength of people and community.
"Since the first 1864 event, a common question is: why celebrate a town's burning," said Janet Pollard, Executive Director of Franklin County Visitors Bureau, the organization responsible for the annual event. Pollard explained, "1864 always celebrated the rebirth of the town and the spirit of the people, who brought Chambersburg to life."
Pollard connected the wisdom of Benjamin Franklin, for whom the county is named, to the history of July 30, 1864 by noting this Franklin maxim, "While we may not be able to control all that happens to us, we can control what happens inside us." The citizens of Chambersburg could not control the ransom demand or the destruction of so much of their town, but they could control what happened afterward. Today, Chambersburg stands as a proof of their strength and effort."
History and culture come alive on July 15-16 in Franklin County PA. Events include:

Restaurant Week, through July 16 - Meal deals include offering meals for $18.64, to commemorate the year Chambersburg was burned by Confederates during the Civil War, and $30 to celebrate the 30th Annual ChambersFest. Participating restaurants include Café d'italia, The Cottage, Molly's Restaurant & Carry Out, The Orchards, Main Street Deli, and many more!
1864 Civil War Ball – July 15, 6:30 – 9:30 PM at Allison Antrim Museum in Greencastle, guided by the Victorian Dance Ensemble. Tickets are $15/person and $25/couple.
Old Market Day – July 16, 9: AM – 4 PM throughout downtown Chambersburg with more than 125 craft, food, and art vendors
On the evening of July 16, Chambersburg comes to life.

July 16, 6 PM – 7 PM – Civil Walking Tours of Chambersburg square; vendor exhibits & book signings; FREE Civil War era photo booth; FREE glow-In-the-dark face and body painting; Window Walk art exhibit
July 16, 7 PM - A Cappella & Unplugged Final Round with winner announced at 8:30 PM
Burning Recap 2011-2015 & Tribute
8:55 PM - 1864 Burning & Rebirth Light Show
10:00 PM - Midnight -Illuminate After Party with Vitality In Progress – Glow-In-The-Dark Art Installation.
The Franklin County Visitors Bureau invites all to explore Franklin County PA and enjoy the trails of history, arts, and architecture, recreation, natural beauty, fresh foods and the warm hospitality of communities like Chambersburg, Greencastle, Mercersburg, Shippensburg, and Waynesboro. Franklin County PA is located just north of the Mason Dixon Line and is an easy drive to Washington DC, Philadelphia, and Pittsburgh. Discover more…plan a visit soon at ExploreFranklinCountyPA.com or by contacting 866.646.8060.