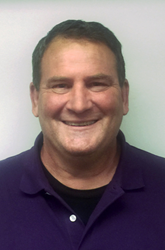 I am very excited to join the Applegate team and serve the customers in this area.
Webberville, MI (PRWEB) July 19, 2016
Applegate Insulation, the world's largest family-owned manufacturer of cellulose insulation products, is pleased to announce Brian Raber has joined the Applegate team as Regional Sales Manager of the Mid-Atlantic Region.
Based in Greenville, South Carolina, near his alma mater Clemson University, Raber will be responsible for Applegate's insulation business in North and South Carolina.
Raber brings with him 30 years of building products representation experience, including 10 years in the cellulose insulation industry. He has a true passion for cellulose insulation. "I am very excited to join the Applegate team and serve the customers in this area as I believe Applegate produces the best cellulose insulation available today," said Raber.
Born in Pennsylvania and raised in Northern Georgia, Brian has a wonderful wife, Lynn, and two children. Brian's wife works for a top-rated content management developer while his children continue their pursuit of academic excellence. Brian's daughter will follow in his footsteps, attending Clemson University in the fall.
To contact Brian Raber please call (864) 908-6379 or email braber(at)applegateinsulation(dot)com
About Applegate Insulation:
Established in 1978, Aaron and his son Terry Applegate began producing insulation out of a small facility in Okemos, Michigan. Today, Applegate (headquartered in Webberville, Michigan), is the largest family owned cellulose insulation producer in the world, and supplies a variety of high-performance recycled insulation products throughout the United States.
In addition to its cellulose insulation products, Applegate manufactures a suite of eco-friendly products including: Cotton Armor, a thermal/acoustic insulation blanket, board and wrap product for the construction and OEM markets, Paper Shavings, a cellulose bedding product designed for horses and all other animals, MastaSorb, cotton and cellulose-based industrial absorbents, and a full line of cellulose mulches, wood mulches and tackifiers to the international landscaping, hydroseeding and erosion control community.
Applegate currently operates facilities in Michigan, Wisconsin, Pennsylvania, Kentucky, Georgia, Louisiana, Colorado and Ontario and will begin cellulose insulation production at their newest plant in Arizona later this summer. For additional information regarding Applegate Insulation please visit http://www.applegateinsulation.com or call 800-627-7536.