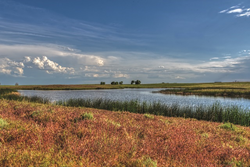 Snyder, Colorado (PRWEB) July 18, 2016
Buyers have the opportunity of a lifetime to bid on 410± acres of premier Colorado goose and duck hunting preserve with a 3,000 square foot lodge, located in Snyder, Colorado. United Strategic Client Services in conjunction with United Country – Schur Success Realty & Auction, will offer the hunting preserve to the highest bidder during an online event ending August 11 at 2 pm MDT. A preview and tour of the property will occur on July 29 from 12 to 4 pm.
"We believe auctions are one of the best ways to bring unique properties to the public," said Mark Woodling, Vice President and auctioneer with United Strategic Client Services. "This format allows qualified buyers the opportunity to see the available property and determine their current fair market value through the auction bidding process."
"We are excited to present this amazing hunting property to the public," Woodling said. "The property, known as the Snyder Hunting Club, located at 25825 Morgan County Rd Y, Snyder CO 80723, is a well-established organization that owns and leases numerous goose and duck properties just 90 minutes east of Denver. The property is a great habitat for many species of ducks, doves, geese, pheasants, quail, deer, coyotes, fox, bald eagles and many more types of wildlife. A portion of the proceeds from this sale will be donated to Ducks Unlimited to advance their wildlife habitat and wetland conservation efforts."
Property details, photos, online bidding, as well as terms and conditions can be found at ColoradoHuntingPreserve.com. United Strategic Client Services can be reached at 214-945-4556 or by email at mwoodling(at)unitedrealestate.com. Rich Schur the owner of United Country – Schur Success Realty and Auction can be reached at 719-210-6230 or by email at rich(at)successrealtyauctions.com.
About United Real Estate Group
United Real Estate Group, operating the United Country Real Estate and United Real Estate brands, addresses the unique markets they serve, lifestyle, country and urban, with exclusive marketing, technology and training solutions. Together, the United brands support nearly 500 offices and 6,000 real estate professionals across four continents with a unique, comprehensive marketing program that includes one of the largest portfolios of real estate websites, the largest internal real estate marketing services company, an extensive buyer database of more than 650,000 opt-in buyers, and regional, national and international advertising programs for properties. For more information about United Country Real Estate or United Real Estate, please visit http://www.UnitedCountry.com or http://www.UnitedRealEstate.com.
# # #