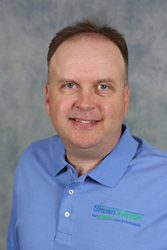 Plainfield, IL. (PRWEB) July 21, 2016
Spring-Green Lawn Care is proud to announce its newest franchise owner John Gerrard, who purchased ownership of the existing Spring-Green Lawn Care territory in Wilmington, Delaware, from Scott Bixby.
Previously, Gerrard owned an exotic mushroom farm. His company, Exotic Mushroom Services, was known for high-quality products, including oyster, shiitake, king oyster, wood ear and lion's mane mushrooms. Exotic Mushroom Services produced approximately 30 thousand pounds of product a month, which was sold to wholesale and retail customers, as well as a variety of gourmet restaurants and individuals. Additionally, Gerrard's mushrooms had earned awards at the Kennett Square Mushroom festival.
Gerrard made the decision to sell the mushroom business, and with a background in industrial engineering, he opted to return to that field for several years. He had learned about the Spring-Green opportunity years ago from a colleague, and although he followed up a little bit, he decided the time wasn't right to commit. Realizing that his passion was in the outdoors and helping others achieve great lawns, he gave Spring-Green another look. "While researching Spring-Green, I saw that it was listed quite high among the national franchise lawn care rankings," Gerrard said. "I also heard my former colleague's success stories and enjoyment with the lawn care profession. He persuaded me to look into it deeper and that led me to purchase."
Gerrard is excited about the potential for success that his Spring-Green franchise offers him and his family. "I wore just about all the hats with my other business. With this new franchise, I plan on doing whatever it takes to make it a success," Gerrard shared. He's comfortable working in the field or in the office, wherever he is needed most. Gerrard added that he is looking forward to the personal satisfaction of exceeding customers' expectations for lawn care. "I tried to do my own lawn for a number of years and never got the type of quality job that I expected from myself so I began looking into the industry. I wasn't satisfied with the existing competitors in my area," he explained. Now that he has brought Spring-Green to his area, he can satisfy not only his desire for a better lawn, but also anyone seeking the same in Wilmington.
Gerrard's purchase of Scott Bixby's existing territory exemplifies one of the many reasons why green industry businesses should consider adding Spring-Green to their existing business portfolio. Spring-Green offers a well-established, highly recognizable brand with a built-in support system to assist new franchise owners. Reselling a Spring-Green franchise offers a viable exit strategy when the time comes without all of the stress or worry so often associated with passing on a business or retiring.
James Young, president of Spring-Green, feels that Spring-Green's track record and the number of years the company has been in business speaks to the great opportunity Spring-Green offers. "We are pleased to have John take over the Wilmington territory and look forward to him joining our long list of owners who are successful and happy with the support that Spring-Green gives to our individually owned and operated franchises."
About Spring-Green Lawn Care
Founded in 1977, Plainfield, Illinois-based Spring-Green Lawn Care has been delivering lawn and tree care services nationwide for more than 39 years. Its service is centered on the beautification of residential and commercial customers in middle-class and affluent neighborhoods and communities. Spring-Green is an attractive opportunity for entrepreneurs and existing green industry business owners who want to align themselves with a business model that has proven economic resilience, healthy profit margins, industry leading business and marketing intelligence, recurring revenue and retirement and succession planning. For more information, visit http://www.springgreenfranchise.com.
Contact: 54 LLC
Jack Burris
704-557-0304
jburris(at)engage54(dot)com