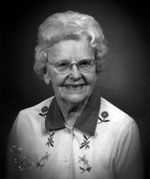 Minneapolis, MN (PRWEB) July 18, 2016
On Tuesday, July 12, 2016, Alvera Mickelson, former board member and founder of Christians for Biblical Equality (CBE), passed away at the age of 97, leaving behind a legacy of advocacy for gender equality.
The daughter of Swedish immigrant farmers, Alvera was the first person in her family to earn a college degree, and later a master's degree in journalism from Northwestern University. Alvera taught journalism at Wheaton College and Bethel University, and began publishing her work as early as the 1980s.
Mickelsen and her husband, Dr. Berkeley Mickelsen, were among the founders of CBE. Alvera Mickelsen served as the chair of CBE's board and a longtime board member. She was a teacher, author, representative of CBE and the evangelical egalitarian movement, and devoted volunteer.
Mickelsen was the author "Women in Ministry: Four Views" and "Woman, Authority and the Bible." She also contributed to Discovering Biblical Equality: Complementarity without Hierarchy, edited "Men and Women Using their Gifts Together in Advancing the Gospel," and wrote often for CBE publications, including Mutuality, Priscilla Papers, and Arise.
Mickelsen was a bold and gracious advocate for gender equality in the evangelical church, according to CBE's president, Dr. Mimi Haddad. "She represented the organization on Christian Radio, at the Minnesota State Fair, answering questions from individuals who called in wondering how you could be both a feminist and also a Christian. Her practical wisdom, biblical knowledge, and experience with difficult people made her the ideal 'egalitarian Bible answer lady.' Her life was very full and she was grateful for every day. Alvera often said that we are all on this earth to help others. She helped so many, with love, joy, laughter, and with the aim to please Christ. We love Alvera more than words can express."
A memorial celebration will be held Saturday, July 23 to celebrate her Mickelsen's and service to Christ. The service will be held at 11 am at Grace Point Church, 2351 Rice Creek Rd, New Brighton, MN 55112, with a visitation at 10 am.
Mickelsen identified two organizations as recipients of gifts her honor: Christians for Biblical Equality and the Salvation Army.
In its effort to advance a biblical foundation for gift-based rather than gender-based ministry and service, CBE sponsors annual conferences, facilitates local chapters, hosts an online bookstore, and publishes two award-winning journals. For more information, visit http://www.cbeinternational.org.