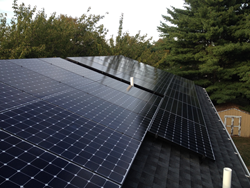 Harvest Power did a fantastic job with our roof and solar installation. They finished both installations in less than two days!
Long Island, NY (PRWEB) July 18, 2016
Harvest Power LLC has recently been named a TAMKO Pro Certified Contractor. Harvest Power's well established track record and unparalleled positive reputation from previous roof installations along with their financial and legal standing are key ingredients in being recognized as a TAMKO Pro Certified Contractor.
"Harvest Power is honored to be a part of the TAMKO Pro Certified Team of Contractors," stated Carlo P. Lanza, Managing Member of Harvest Power and President of the New York Solar Energy Industries Association (NYSEIA). "This recognition solidifies Harvest Power as the premier one stop shop for homeowners roofing and solar needs."
By being named a TAMKO Pro Certified Contractor, Harvest Power becomes the first solar company on Long Island to hold this distinction and one of the few in the Northeast. Harvest Power has leaned on their over 30 years of construction and energy efficiency experience to help save thousands of property owners money in New York State. Achieving Pro Certified Contractor status with TAMKO will allow many more property owners the same ability to save in the future.