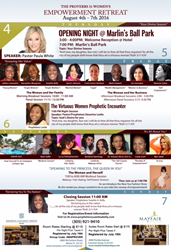 Know that God can speak one word. That one word will not only change your circumstances, but will indeed change life as you know it. To the point where you can never go back to being whom you once were.
Miami, Florida (PRWEB) July 19, 2016
Sarahi House of Fashion and Prophetess Suzette A. Kelly are proud to present the first annual "Proverbs 31 Women Empowerment Retreat," Aug. 4, 5, 6 and 7, 2016. This life-changing event, staged in the tropical oasis of Coconut Grove, FL, will be stacked with keynote speakers, "New You" makeovers, self-esteem sessions, indulgent spa pampering, fashion show, morning workouts, mingle brunches and more.
The retreat is geared toward preparing women of all ages to survive their "wilderness experience" and providing them with the tools to living a stress-free and virtuous life, while walking in God's divine purpose and plan. Confirmed speakers are Janice Johnson, Jadine Louissaint, Stacey-Ann Musgrove, Prophetess Suzette A. Kelly, Carol Green-Vonkaul, Mark Howard-CPA,Vanessa Cañas, Iris Gonzalez, Pastor/Prophetess Deserine Leslie, Ruth Tuffet, Kendrick Ramhings, Njie Sabik-Actress, Dr. Simone Alia D.D. H.C, Linda Scott and La-La.
One of these extra special guest speakers is teacher, author, international evangelist, inspirational figure, popular TV personality…woman of God, Pastor Paula White. Known for her profound and dynamic Bible teaching, she is the host of the nationally syndicated program "Paula Today." Transcending socioeconomic and denominational barriers, her powerful message of hope resonates among people from every walk of life. With a faith undaunted by the task at hand, this mother, humanitarian and beloved mentor is also the Senior Pastor of New Destiny Christian Center in Apopka, Florida, a non-traditional church with a multi-cultural mission whose membership ranges in the thousands. A gifted exhorter and motivator, the core of Paula's message is "delivering spiritual truths that transforms lives."
The event will take place over for three nights and four days at various venues within a 5 mile radius of Coconut Grove at The Sonesta Coconut Grove, The Mayfair Hotel & Spa and The Palmeiras. Shuttle service will be provided to the venues. The evening sessions will be free to the public with the daily sessions being exclusively for registered retreat attendees only.
Opening night will kick off at Miami Marlins Ball Park where 3,000 women will be invited to hear Pastor Paula White speaking on living their destiny. The daily and evening sessions will focus upon intimate topics such as The Woman and Her Business, Life Coaching, Single Moms, Wealth Management, God's Desire and more. For the complete schedule to "Proverbs 31 Women's Retreat" or to purchase tickets, please visit http://prophetesssuzetteakelly.com.
About Prophetess Suzette A. Kelly: Daughter, sister, mother, entrepreneur, designer and author. Prophetess Suzette A. Kelly was born into an Evangelistic household. She grew up a "preacher's kid," but did not want to answer her true calling. So, Suzette stayed away from the church. However, in 2002 after numerous experiences with God, she eventually stopped running from her calling. When God called Suzette with fear, her journey was set. Suzette accepted the calling to the office of the prophetic in December 2004 and sat under other ministries to gain the knowledge God wanted her to learn from 2004 to 2008. Prophetess Kelly learned from ministries such as the Potter's Vessel Ministry and Dr. Cindy Trimm Ministry.
An excerpt from Prophetess Kelly's latest book: "I will hear what God the Lord will speak: for he will speak peace unto his people, and to his saints: but let them not turn again to folly. (Psalms 85:8 KJV) When we have reached the place where we feel like giving up, it will indeed take a divine encounter with God the Father, Jesus the Son and the Holy Spirit to keep us going and for us to not totally lose hope. It is this encounter that will not only change our lives, but everything about us. Know that God can speak one word. That one word will not only change your circumstances, but will indeed change life as you know it. To the point where you can never go back to being whom you once were."—Surviving Your Wilderness Experience
To register for the event or purchase a copy of Surviving Your Wilderness Experience, please visit the website.
For more information, please contact:
Prophetess Suzette A. Kelly
Ph: 305 921-9410
PO Box 371544
Miami, FL 33137