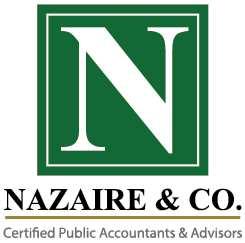 Certified Public Accountants & Advisors.
Garden City, NY (PRWEB) July 19, 2016
1. Prior to making a new investment, Nazaire & Co. advises creating short-term goals that are aimed to be achieved within the next three to five years. Determine the reason for investing, what is being invested, and how much is being invested. Understanding your liquidity needs and investing goals will help in the decision of choosing which investments will provide the funds that are needed at the right time.
2. All investments come with one or more forms of risk. Nazaire & Co. strongly encourages that investors assess the risk factors of their investment. Determine the impact a failure will have on your personal financial situation, including your retirement savings, home and credit. Set a cap on what you are willing to risk and be ready to walk away with a loss at that number to protect your personal finances.
3. The U.S. Small Business Administration ranks lack of business experience as one of the key reasons businesses fail. An experienced investor is better able to make informed decisions about complicated investment vehicles such as hedge funds, derivatives and options, while novice investors often begin with mutual funds or exchange traded funds. When looking to invest, Nazaire & Co. recommends assessing the knowledge of operating what is being invested. It is beneficial to possess the financial and business experience in order to increase the chance of success for your investment. The better you understand the business, the more confident you'll feel about your investment.
4. Diversification is an important factor to consider when investing. When diversification decreases, portfolio risk increases. A portfolio should be well-diversified, therefore Nazaire & Co. suggests choosing investments that complement other holdings. Diversification on many levels provides some insulation from market fluctuations, due to the idea that factors that are bad for some markets are good for others, and short-term investments provide opportunities to rebalance.
If you have money to invest and you are looking for additional information regarding investing, you are encouraged to visit the Nazaire & Co. blog at Nazaire.com/blog
Nazaire & Co. is a full service Accounting & Consulting firm geared toward the needs of small to medium size businesses and individual clients. Integrity, innovation, industry expertise, and an on-going commitment to quality are the core values that guide us in our business.