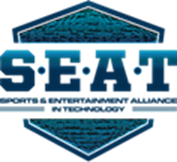 VCC host-controlled call-in TV…is exactly the type of disruptive technology our Community seeks as they look to optimize Fan Engagement and deepen brand passion.
Palisades, NY (PRWEB) July 15, 2016
SEAT (Sports and Entertainment Alliance in Technology), the leading consortium for content, collaboration and education at the intersection of Sports & Entertainment leaders, and The Video Call Center, the leading innovator of live video caller program production services and technology, today announced that they have entered a strategic partnership. VCC is now the exclusive Video Call-In Partner of SEAT and a strategic VIP sponsor for the upcoming SEAT Vegas 16 conference, July 17-20, at the Aria Resort, Las Vegas, NV, where VCC will provide demonstrations in booth #1104.
Under the new strategic agreement, SEAT will leverage The Video Call Center's services and technology to develop SEATGlobal.tv, a new weekly program intended to deepen interactions within the SEAT Global Community, a captive audience of global leaders representing 25+ countries, including top executives spanning professional & collegiate clubs & venues across all five major U.S. sports. SEAT Vegas 16 attendees will have the opportunity to see how they too can leverage VCC mobile video over IP technologies to create new revenue streams and engaging, experiential content for their customers, clients and fans.
VCC enables the creation of innovative video call-in programming that brings together a host, invited guest speakers and audience members—all connected by the video chat applications on their mobile or desktop devices—in professionally produced, editorially controlled, fully moderated, HDTV-quality events. The VCC's technology is changing the nature of fan engagement with teams, leagues and conferences, and transforming how fans experience, consume and interact with their favorite sports. From commentary, conversation and controversy, to live event venue tie-ins and premium player access, all joinable and viewable through mobile devices, the VCC offers fans a uniquely compelling entertainment proposition and sports executives the opportunity to extend their franchises' reach.
VCC CEO Larry Thaler said, "We are very excited to enter this strategic relationship with SEAT and look forward to partnering with the organization to develop innovative ways to engage with leaders across the sports industry. VCC has already made important impacts in the sports industry with ground-breaking new programs such as 'Broncos Tonight You Make the Call' and we anticipate that exposure to SEAT's industry-leading membership will foster additional creativity."
SEAT Founder and CEO, Christine Stoffel, said, "VCC has created a powerful and reliable platform for increasing audience engagement. VCC host-controlled call-in TV offers the opportunity to enhance our programming to maximize the education and engagement within the SEAT Global Community, and is exactly the type of disruptive technology our Community seeks as they look to optimize Fan Engagement and deepen brand passion. SEAT looks forward to a productive relationship with VCC."
About SEAT: SEAT (Sports & Entertainment Alliance in Technology) is dedicated to the executives and leading decision-making professionals in the worlds of Sports & Entertainment. Its core mission is to provide a forum for industry leaders to Learn, Collaborate and Network, fostering present and future industry growth. Founder, CEO and former IT Sports Executive, Christine Stoffel, launched SEAT with her peers in mind as she created an environment where IT leaders can coact and be heard. SEAT Vegas 16 marks SEAT Conference's 10th anniversary in the domestically, after recently hosting its 2nd annual event in Europe, in April 2016. Visit http://www.SEATConsortium.com for more information about SEAT, SEAT Conference or Christine Stoffel. For SEAT Press or Media Contact: Christine Stoffel, SEAT -CEO, cstoffel@seatconsortium.com or BJ Scott, SEAT-Sr. Director Global Marketing bjscott@seatconsortium.com Cell: 623-670-0492
About The Video Call Center, LLC.: The VCC delivers a totally new approach to live television creation, merging IP video, caller-based content acquisition with editorial control into traditional production facilities or via host control through assistive automation without a control room. Offering both services and technology licensing, The Video Call Center LLC is owned by Wolzien LLC and TEGNA Inc, which is a significant investor and customer. VCC enables our customers to create extremely efficient video-caller programs via technology and production services. VCC also operates the Talk Center America OTT network. The specialized Video Call Center caller acquisition and host automation technology is covered by US Patent 8,767,031 issued in July 2014, with other patents pending. After more than 300 hours of live over the air and web broadcasts, the systems have supported over 3,800 callers. See http://www.thevideocallcenter.com for details.