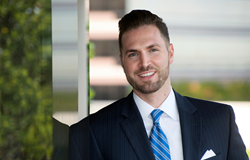 "I was drawn to GV Financial after learning about their Behavioral Wealth Management model. It allows for deeper client conversations to understand the personal motivations, family needs and life goals – not just "how much?" and "by when?".
Atlanta, GA (PRWEB) July 19, 2016
GV Financial Advisors is pleased to announce that Jordan Hutchison joined the firm as a Financial Advisor in March.
Previously based in Huntsville, AL, Jordan spent three years as a Vice President/Junior Partner with Oak Tree Financial Services providing wealth management services. He's also worked for Lincoln Financial Advisors and USi, Inc.
GV's progression to its Behavioral Wealth Model from traditional financial planning resonated with Jordan.
"I was drawn to GV after learning how differently they approach client relationships," Jordan explains. "The Behavioral Wealth Management model allows for deeper conversations about personal motivations, family needs and life goals – not just "how much?" and "by when?". This approach allows me to create a more tailored financial plan designed to help them live more fulfilling lives."
Gary Whitehurst, GV's Executive VP, added the following, "As we've grown, it's been important for us to find the right fit when hiring excellent financial advisors like Jordan. Jordan's rich experience, values-driven interests and client demeanor all fit perfectly with GV's Behavioral Wealth Management model, our goals, and GV's core values. It's fantastic having Jordan as part of our growing advisor team."
Jordan holds FINRA® Series 7 and 66 licenses as well as Life/Health (GA & AL) licenses, and is pursuing his Certified Financial Planner (CFP®) status and IMCA's Certification in Applied Behavioral Finance. He holds a Master of Science in Financial Planning and Counseling from the University of Alabama and a Bachelor of Science in Business and Psychology from the University of Montevallo.
He can be reached at jordan.hutchison(at)gvfinancial(dot)com and (770) 295-5677.
ABOUT GV FINANCIAL ADVISORS
Believed to be the first and only Behavioral Wealth Management firm in the U.S., GV has invested over a decade applying the scientific principles of neurobiology, Behavioral Economics and Behavioral Finance to create a new paradigm in wealth management. Established in 1991, GV is one of the leading registered investment advisory firms in Atlanta with 46 employees and $1.125 billion in assets under management as of December 31, 2015. Over the years, GV & its team have earned spots on a number of prestigious lists, including Barron's Top U.S. Investment Advisors, REP's Top 100 U.S. Registered Investment Advisors, Financial Advisor's U.S. RIA Ranking, & the Financial Times FT 300, based on assets under management and other factors. Their writings have appeared in publications including The New York Times, The Wall Street Journal and The Huffington Post. To learn more, visit gvfinancial.com. # # #
ADDITIONAL LINKS
Jordan's Headshot (1015x995)
Wide Shot (1362x871)
GV Financial Advisors Logo (460×460)
Jordan's Bio