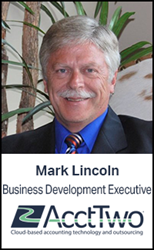 Houston, TX and Dallas/Ft. Worth, TX (PRWEB) July 18, 2016
AcctTwo, a leading consulting firm and provider of cloud-based ERP solutions, announced that the firm has hired Mark Lincoln in the role of Business Development Executive. Mark comes to AcctTwo with nearly 25 years of experience in nonprofit executive financial management, strategic planning, and operations. He has served with numerous organizations, including Every Home for Christ, Hope for the Heart, the Hope Center Foundation, Wellspring of Hope, e3 Partners and I Am Second Ministry. He received a Master's in Business Administration from Regis University and was a finalist for Dallas Business Journal's CFO of the Year in 2011.
Mark brings a keen understanding of nonprofit finance and operations. He has a great deal of experience with the new technologies and business systems available to nonprofits in the new world of cloud and SaaS solutions, and, as the founder of Ministry to Ministry Shared Services, he believes in AcctTwo's vision of Business Process as a Service solutions for nonprofit and faith-based organizations.
"I couldn't be more excited to have someone of Mark's caliber and with his experience join us at AcctTwo," said Marcus Wagner, Founder and CEO of AcctTwo. "I know Mark to be a well-respected, talented, and highly ethical force in the faith-based and nonprofit community, and we can't wait to learn from his experience and benefit from his leadership. I look forward to working with Mark to further establish AcctTwo as a hub for churches and nonprofits to find advice, support, and community as they grow and streamline their operations and take advantage of new technologies."
AcctTwo has decided to make this strategic hire because of the firm's continued long-term commitment to providing technology and services to churches and nonprofit organizations, and the firm's commitment to building a community where the leaders of nonprofit finance and operations can collaborate and learn from one another. "In a fast-paced and shifting landscape of new technologies and evolving regulations," adds Wagner, "we'd like to see churches and nonprofit organizations share the knowledge they've learned about technology, solutions, integrations, and best practices. There's no need to go it alone."
Mark Lincoln shares in this belief that churches and nonprofits should help one another and benefit from the collective experience of those who've gone before. "Sitting down with Marcus privately to discuss his vision to serve those in the nonprofit community was such an encouragement to discover that we both were in such alignment in our values and vision," said Lincoln. "It is that vision that moved me to join him in his pursuit and to be a part of the already exceptional and dedicated team at AcctTwo."
Additional resources:

About AcctTwo:
AcctTwo is a leading consulting firm and reseller of cloud-based accounting and ERP software. Our sophisticated systems solve the issues growing churches and non-profits face today. AcctTwo also provides Business-Process-as-a-Service solutions, allowing clients to focus on their mission. We provide the people, processes, technology, and office facilities to perform these functions, while allowing clients to collaborate interactively through an on-line portal.
AcctTwo is headquartered in Houston, Texas. For more information, please visit http://www.accttwo.com or call 713-744-8400.
Contacts
Peter Wagner
Director of Marketing
Cell: 512.415.6846
Email:pwagner(at)accttwo.com
Chris Wailes
VP, National Media Relations
Pierpont Communications
Direct:713.627.2223
Email:cwailes(at)piercom.com