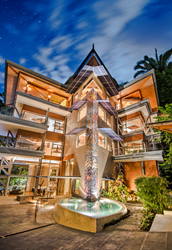 (PRWEB) July 17, 2016
Villa Punto de Vista, a 10-bedroom luxury private villa situated on 2 1/2 acres of tropical reserve in Costa Rica, will be featured in the upcoming broadcast of Life's A Beach on Travel Channel. Life's A Beach focuses on real-life stories of people who left their workaday life to pursue their dream of owning a slice of heaven in a beach paradise. Viewers get an inside look at the fascinating tips and tricks these beachcombers use to create these magical lifestyles.
Villa Punto de Vista will be featured on an episode entitled Love At First Sight, airing Sunday, July 17 at 11:30 PM, 10:30 central on Travel Network. The episode will also be repeated on Monday, July 18 at 2:30 AM, 1:30 central. Check your local listings.
It is not surprising that the producers of Life's A Beach would choose to visit Manuel Antonio and more specifically, Villa Punto de Vista for this episode. Playa Manuel Antonio was recently named the second best beach in Central America and the 15th best in the world by TripAdvisor, while Villa Punto de Vista received the 2016 Condé Nast Johansens Award in the best villa or serviced apartment category.
Luxury, Comfort, and Attention to Detail
The villa was created with the idea of delivering all of the personalized attention of a private villa combined with the size and infrastructure needed for events such as weddings or corporate retreats; usually the domain of larger, more impersonal hotels. Villa Punto de Vista, with its unparalleled panoramic views surrounded by tropical flora and fauna, features a stunning architectural design eco-consciously using as many recycled and locally sourced materials as possible.
An Ideal Setting
Villa Punto de Vista sits atop a bluff overlooking the blue waters and the white sands of Playa Manuel Antonio on Costa Rica's central Pacific coast. All around is the tropical splendor of Manuel Antonio National Park with its lush rainforests, beautiful waterfalls and dazzling wildlife, like toucans, sloths, squirrel monkeys, and parrots. Nearby, visitors can find great attractions and activities such as zip lining, hiking, sailing and a visit to an aromatic vanilla plantation, not to mention the unbelievable dining in many local restaurants.
Viewers can tune in to Travel Channel's Life's A Beach on Sunday, July 17th to discover more about Villa Punto de Vista and Manuel Antonio.
About Villa Punto de Vista
Villa Punto de Vista, Costa Rica is a luxuriously appointed, 10-bedroom, fully staffed private villa (for groups of 12 – 27 persons). The villa is situated on a lush, 2.5 acre, tropical reserve embraced by remarkable wildlife and perched above the warm turquoise waters of Manuel Antonio Bay. Villa Punto de Vista is rented to only one party at a time, so it is exclusively yours.
For more information, visit http://www.villapuntodevista.com or call 1.888.890.8687 (Toll Free).