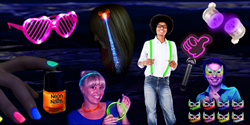 Shop the latest selection of glow-in-the-dark jewelry and light-up accessories while planning that next festival trip, like LED Earrings and Glow Neon Nail Polish
(PRWEB) August 01, 2016
Shop the latest selection of glow-in-the-dark jewelry and light-up accessories while planning that next festival trip. Glowsource.com offers unique gear to instantly ignite festival vibes with a glowing line-up of fun glow in the dark party accessories.
Here are the 8 Must-Have Glow-in-the-Dark Party Supplies for Summer Music Festivals:
LED Earrings
These LED Earrings are not only gorgeous at night, but they can also be seen during the day. Just twist the base of the earring to activate the beautiful LED lighting inside.
LED Suspenders
LED Suspenders are hip, unique and most importantly – they hold those pants up! Choose from 4 different colors before they sell out.
LED Fiber Optic Hair Extensions
It's all about the newest hairstyles at summer festivals and now it's easy to up that hair game with clip-in light up fiber optic hair extensions.
LED Heart Slotted Shades
Summer festivals are all about love, so these light-up Heart Slotted Shades are the perfect staple to any outfit. Voila! - A real-life heart-eye emoji is born!
Glow Neon Nail Polish
This vibrant, neon nail polish glows and looks great for the day or night. Available in 6 different colors to mix and match!
Glow Butterfly Masks
Become a different person or just be mysterious and whimsical in these masquerade-esque Glow Butterfly Masks. Fly free, butterfly!
LED Thumbs Up Wand
Music festivals are full of positive vibes, so what better way to add to the positivity than waving an LED Thumbs Up Wand? Everyone around this wand is sure to be all smiles!
LED Halo Headbands
Headbands embody the essence of hippie and that's what music festivals are all about – one love! Get that hippie look by adding a halo up top and become instantly transformed into the perfectly hip festivalgoer.
About Glowsource.com:
Glowsource.com has been lighting up the night since 1999. The company manufactures and distributes some of the most unique glow products on the market and offers wholesale prices for all party and gift needs. Glowsource.com is a one-stop shop for tons of event types and holidays, including Mardi Gras, St. Patrick's Day, Cinco De Mayo, Easter, July 4th, Labor Day, Halloween, Christmas, Hanukkah, New Year's, birthdays, weddings, graduations, church events, school dances and events, bar and nightclub glow nights, and many more.
Website
http://www.Glowsource.com
Contact:
Whitney Callahan,
whitney(at)glowsource(dot)com
323.878.1280