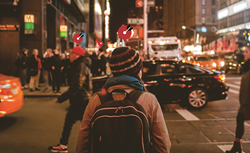 Engaging the audience.
Garden City, NY (PRWEB) July 19, 2016
Despite social media being easy to grasp, it is difficult to master. But with the help of Target Points, both businesses and individuals can better improve engagement among their audiences on social media.
1. Post consistently. Target Points understands that in order to engage with a specific audience, they must be provided with a consistent flow of content. A page with little to no posts is a page not worth visiting. Target Points advises users to post relevant content as often as possible, giving visitors something to engage and interact with, and, most importantly, share. The more content a social media profile contains, the more likely it is to attract visitors.
2. Increase the use of images. Social media should be a very visual experience. Users enjoy visiting pages or profiles that contain various pictures, comic strips, and videos for them to view. Profiles with too much text and not enough pictures run the risk of scaring off visitors, or even worse, boring them. Target Points recommends finding a balance between words and images in order for users to accurately convey their message while simultaneously engaging their audiences.
3. Utilize Hashtags. When it comes to social media sites like Twitter and Instagram, hashtags are pivotal in ensuring the visibility of posts. Target Points advises researching popular hashtags associated with a user's brand to increase the chances of their posts being seen by a larger audience. Utilizing the right hashtags can drastically increase a user's viewership and follower count.
4. Engage with other users. Social media was created as a vehicle for users to interact with one another no matter their location. Target Points recognizes that in order to truly be successful in social media, users must not only provide their audience with content but interact with them as well. Users are encouraged to reply to feedback, comment on photos, and answer any questions and concerns that their audience may have, via their social media channels.
Those looking for additional information related to social media marketing plans can learn more by visiting targetpointsinc.com/social-media-management.
Target Points is a digital advertising agency dedicated to creating your brand's online presence through a unique strategy, helping you expand your customer base and engage your audience.