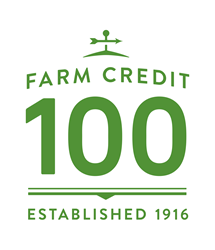 I commend everyone working to ensure America's farmers, ranchers and rural communities have the resources and information they need to thrive, and I wish all those celebrating this historic occasion the very best- President Barack Obama
(PRWEB) July 16, 2016
Farm Credit of the Virginias is celebrating Farm Credit's 100th anniversary on July 17, 2016. In recognizing the organization's milestone, the President of the United States shared a message of appreciation, the House of Representatives and the Senate both introduced resolutions to commend and congratulate the Farm Credit system, and Agriculture Secretary Tom Vilsack lauded the organization's role in American agriculture and spoke to its ongoing importance to the future.
"By providing loans and financial services to farmers and communities through its network of cooperatives, the FCS [Farm Credit System] plays an integral role in local economies across the United States," said President Barack Obama. "I commend everyone working to ensure America's farmers, ranchers and rural communities have the resources and information they need to thrive, and I wish all those celebrating this historic occasion the very best."
The House of Representatives resolution (H.Res.591) is jointly sponsored by U.S. House Agriculture Committee Leaders Mike Conaway (R-TX), Collin Peterson (D-MN), Austin Scott (R-GA), and David Scott (D_GA) and co-sponsored by more than 160 other members of the House. The Senate resolution (S.Res.349) was introduced by Senate Agriculture Committee leaders Pat Roberts (R-KS) and Debbie Stabenow (D-MI) and co-sponsored by 56 other senators, including members of our Maryland, Virginias and West Virginias delegation. Both resolutions received bi-partisan support and applaud Farm Credit for helping to meet the credit and financial services needs of rural communities and agriculture.
"Farm Credit is made up of dedicated Americans who understand the needs, and champion the values, of rural America," said Congressman Austin Scott (R-GA), chairman of the House Agriculture Subcommittee on Commodity Exchanges, Energy, and Credit. "For a century Farm Credit has been providing our farmers, ranchers and rural communities with the capital they need to build and grow successfully."
Secretary Vilsack attended the Farm Credit 100 luncheon on June 16 in D.C. The event recognized the organization's anniversary as well as the honorees of Farm Credit's Fresh Perspectives search. The Fresh Perspectives program identified leaders and visionaries in agriculture and rural America that are shaping the next 100 years.
"The rural communities and the farm community trusts Farm Credit to be there in the good times, but more importantly, in the tough times," said Secretary Vilsack. "Over the course of the last 100 years,that trust has been cemented."
"It's an honor to receive the encouragement from so many," said Farm Credit of the Virginias CEO Dave Lawrence. "But's it's been even more of an honor to serve our customer-owners for the past 100 years—and will continue to be as we work with the current and future generations help agriculture and rural America thrive."
About Farm Credit
Farm Credit of the Virginias provides over $1.7 billion dollars in financing to more than 10,000 farmers, agribusinesses and rural homeowners throughout Virginia, West Virginia and western Maryland. Farm Credit is a cooperative capitalized largely through investments made by farmers, ranchers and the rural homeowners and businesses that borrow from them. In fact, as part of a nationwide network they are the largest single provider of agricultural credit in the United States and have been for 100 years. Farm Credit helps maintain and improve the quality of life in rural America and on the farm through its constant commitment to competitive lending, expert financial services and for facilitating and sharing knowledge and resources through the Farm Credit Knowledge Center. For more information, visit http://www.FarmCreditKnowledgeCenter.com or http://www.FarmCreditofVirginias.com.