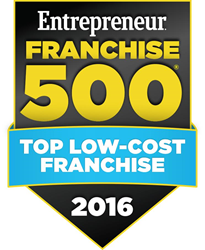 (PRWEB) July 15, 2016
Coffee News® is ranked #26 in the 2016 Top Low Cost Franchises feature published in the August Issue of Entrepreneur Magazine. Start a Coffee News® franchise for an investment as low as $10,000.
About Coffee News®
Coffee News® has nearly 800 franchises in 16 countries and was founded as a service to restaurant patrons while waiting for their food. The 11" x 17" coffee-colored, one-page publication is designed to provide advertisers with a local exclusive advertising option, unavailable in other publications, and the reader with interesting content as they wait for food or service. Small and medium-sized businesses benefit through exclusive and affordable advertising targeting local communities.
The idea for Coffee News® came about in 1988 when Jean Daum of Manitoba, Canada placed her lunch order, then sat back to wait for the food to arrive. Bored with nothing to read, she resorted to reading the information on a sugar packet. Suddenly, it dawned on her that restaurants were missing the boat by not providing patrons with something to read for a few minutes while waiting for their food. The result is a publication that has evolved into an international network of Coffee News® publishers and a Coffee News® readership of over five million a week throughout the world today.