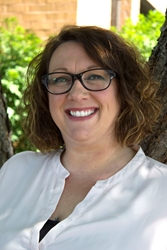 I'm excited to be able to oversee the services across the state and provide resources and support for the teams
Columbia, MO (PRWEB) July 18, 2016
Easterseals Midwest welcomed Staci Bowlen as the new Vice President of Autism and Early Childhood Services on June 21. Bowlen began as a Parent Trainer nearly fifteen years ago and has worked in autism services since that time as an Associate Trainer, Intake Coordinator and, most recently, Director of Autism Services.
"I'm excited to be able to oversee the services across the state and provide resources and support for the teams," Bowlen said. "I love that Easterseals is part of a national affiliation. It allows opportunities to use resources and best practices across the United States."
Bowlen's first encounter with autism was when she worked with a little girl with severe autism in college as part of a class.
"I grew to love her throughout the year I was with her," Bowlen said.
Bowlen wanted to make an impact and help families when she began her career. When she began as an Intake Coordinator, the waitlist was two years for services. After her first year, she shortened the wait to six months.
"People wanted our services; families wanted to know more about autism," Bowlen said. "Seeing the services evolve and the agency grow and meet the needs of more families is an important part of what we do."
Bowlen is set to graduate from Stephens College with her master's degree in Strategic Leadership in December. Her focus is on leadership development and employee engagement.
About Easterseals Midwest | Founded in 1964, Easterseals Midwest is a nonprofit organization that is committed to helping individuals with developmental disabilities—including autism—learn, live, work and participate in the community. The agency employs more than 1,400 staff members, operates a budget of more than $50 million and provides services for nearly 4,000 individuals statewide through four divisions: Autism Services, Community Living Services, Early Childhood Services and Employment Services. For more information, please visit EasterSealsMidwest.org.
# # #
Photo #1: Vice President of Autism and Early Childhood Services Staci Bowlen