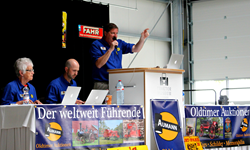 The American-style live auction provided a transparent, public buying opportunity where all bidders had equal footing to buy items.
Nokomis, Illinois (PRWEB) July 20, 2016
Aumann Auctions Inc. forayed into European old iron history last month when it was commissioned to sell a German collection of antique tractors on June 25, 2016 at auction. More than 2,000 bidders and attendees came from a dozen countries to experience a live, American-style tractor auction.
For many Europeans, the concept of a public auction is new to their commerce culture. Historically, these types of assets were sold privately and behind closed doors.
"The American-style live auction provided a transparent, public buying opportunity where all bidders had equal footing to buy items," says Auctioneer Kurt Aumann, CAI, ATS, CES. "We were honored to have the opportunity to introduce this method of buying and selling."
Aumann called bids in two languages—German and English—while German, Dutch, French and English translators and signs were on site to help with registration and information. In addition to Germany and its neighboring countries, bidders traveled from as far as United Kingdom, Italy and Sweden while bidders from the United States, Canada, Ireland, and Australia participated online.
"Calling bids in German was my way of helping bidders feel more comfortable with the American-style auction," says Aumann. "Being self taught in German, the most difficult part was learning the annunciation and dialect. The method of counting is also different than the English way. Numbers after twenty are backward. For instance, twenty one is said one and twenty."
Bringing $1.22 million dollars (that's $1.15 million euros) in sales, the auction featured more than 165 antique tractors from the collection of Raimond and George Muller of Uhldingen-Muhlhofen, Germany. It was held on the shores of Lake Constance at the Swiss border, near one of the most renowned tractor museums in the world—The Traktormuseum Bodensee.
Auction colleagues and fellow MarkNet Alliance members from Sheridan Auction Realty & Auction Co in Owosso, Michigan, and Beckort Auctions in Corydon, Indiana, joined the Aumann Auctions team in Germany to lend additional expertise and support during the sale.
Aumann Auctions has several upcoming antique tractor auctions, including the Gilchrist John Deere Collection in Alberta, Canada, the Stennerson Early Tractors and Traction Engine Collection in Poplar Grove, Illinois, and the Remarkable George Schaaf Collection in Frankfort, Illinois. View more information at http://www.aumannauctions.com.
For more than 54 years, Aumann Auctions has provided auctions services for sellers across the country and internationally. They conduct nearly 100 live and online auctions a year, including antique tractors & memorabilia, farm toys, farm land, real estate, business liquidation and personal property and estates. Aumann Auctions is a member of MarkNet Alliance, a network of international auction companies that conduct nearly 6,000 auctions and sell more than $1 billion in assets annually.
Media Contact: Kurt Aumann, kurt(at)aumannauctions(dot)com, (888) 282-8648 or (217) 563-2523