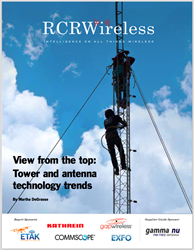 The big question on the tower front is what exactly is the tradeoff between investing in non-macro site densification versus macro sites. - Aaron Blazar, Atlantic-ACM
Austin, Texas (PRWEB) July 19, 2016
How can antennas help operators use their spectrum and tower real estate more efficiently? Our latest feature report, 'Tower and Antenna Technology Trends' includes answers to that question from antenna vendors CommScope, Kathrein and Gamma Nu Theta. In addition, we explain what is meant by the term "massive MIMO" and why multiport antennas are increasingly important to network operators.
This report also includes commentary from the CEOs of American Tower and SBA Communications. Tower company executives see carrier spending shifting toward "amendment" activity, and RCR Wireless takes a look at the trends driving this activity.
"Tower crews are seeing a fair amount of work from Verizon Wireless and T-Mobile US," said report author Martha DeGrasse. "AT&T is starting to pick up the pace, and Sprint is also active, but mostly with metro deployments that don't involve tower crews."
All four nationwide operators are keenly aware of the need to manage costs as they maintain and upgrade their towers. Data price wars and device pricing plans continue to impact revenues. On the spending side carriers are budgeting for upcoming spectrum auctions. All of that limits the amount they can spend on towers.
As a result, cost-saving technologies are in high demand. This report takes a close look at two of these: fiber to the tower and unmanned aerial systems (drones).
Fiber can connect cellular base stations to radios that are not in close physical proximity, because signals degrade much more slowly over fiber than over copper cable. So tower crews are moving radio heads to the tops of towers and using fiber to connect them to base stations on the ground. In some cases the base stations can be many kilometers away, according to Marquis Dorais, fronthaul product line manager for EXFO, a maker of test equipment for fiber connections. In this report, Dorais outlines a number of ways that these architectures reduce operating costs for carriers.
Drones are another cost-saving measure for carriers. In addition to increasing safety by reducing the number of tower climbs, drones can be very good for the bottom line.
"It costs between $2,000 and $5,000 for a tower climb, depending on what the scope is, and a drone flight is significantly lower than that," said Lee Priest, CEO of ETAK Systems. "Even providing the post-installation inspection coupled with the three-dimensional model is much lower than that $5,000. So I think that's where you're seeing the interest from carriers."
In this report, Priest explains why he thinks the next evolution of ETAK's technology will eliminate the need for tower climbers altogether.
This complimentary report is accompanied by a webinar featuring Albert Burke of AT&T and analyst Aaron Blazar of Atlantic-ACM, as well as Lee Priest and Marquis Dorais. The webinar is moderated by report author Martha DeGrasse.
About RCR Wireless News
Since 1982, RCR Wireless News has been providing wireless and mobile industry news, insights, and analysis to industry and enterprise professionals, decision makers, policy makers, analysts and investors. Our mission is to connect, globally and locally, mobile technology professionals and companies online, in person, and now on video. Our dedication to editorial excellence coupled with one of the industry's most comprehensive industry databases and digital networks leads readers and advertisers to consistently choose RCR Wireless News over other industry publications. http://www.rcrwireless.com