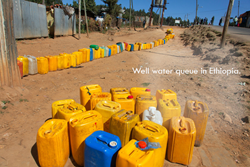 Elkridge, MD (PRWEB) July 15, 2016
Planet Aid announced today that it would launch a series on its blog examining the obstacles facing organizations involved in international development and identifying strategies to overcome them. Entitled, "The Challenges of Development," the series, available on Planet Aid's website, will also identify what strategies and solutions are available to make life better for the poorest of the poor.
In the first post, Planet Aid notes that, "We are winning the war on global poverty. Despite the negative news, the truth is that the world is making steady progress toward a better life for all."
The post goes on to discuss differing approaches to addressing the needs of the world's poorest populations by explaining the work of two of the largest philanthropic donors of our time: the Bill and Melinda Gates Foundation and the Howard G. Buffett Foundation.
"Planet Aid has worked for years to help the world's poorest populations rise out of poverty," said Planet Aid President Ester Neltrup. "Sharing the knowledge we have acquired over the years will help other nonprofits address the same problems and deliver even greater impact around the globe."
Planet Aid supports programs around the globe that help the world's poorest populations sustainably improve their lives by collecting donations of used shoes, clothing and textiles. These donated articles are then recycled and sold across the globe, stimulating the local economies of the poorest communities in developing countries.
To read the series, visit the "Challenges of Development" page. New posts in the series will be published on a biweekly basis.
About Planet Aid
Planet Aid is a U.S. 501 (c)(3) nonprofit and is registered with USAID as a private voluntary organization. Accredited by the Better Business Bureau's Wise Giving Alliance, Planet Aid collects and recycles used clothing and shoes as part of its environmental mission. The net proceeds from its 21-state recycling operation help to support projects aimed at eliminating poverty. Since its inception in 1997, Planet Aid has provided more than $100 million to support projects on three continents. Planet Aid supports programs in education, teacher training, nutrition and agricultural and economic development.