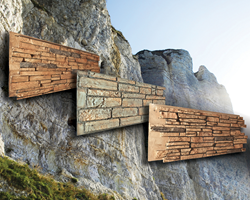 Every block of stone has a statue inside it and it is the task of the sculptor to discover it.
Bogota, NJ (PRWEB) August 03, 2016
Outwater Plastics revolutionizes previously conceived faux stone panels with their unique Stone Clone technology. Creating a stone wall in under 1 hour without using cement has never been easier. Due to the ease of installation, stone clone panels are wonderful for beautifying cement foundations and lantern posts, and for decorating garden back walls and fireplace surrounds.
Outwater's polyurethane panels are made to interlock and are available in Ledgestone, Stonewall, and Rockwall patterns. Panels come in Desert Tan and Bel Air Blue, each with stones differing from panel to panel. The random stone pattern seamlessly finger lock for an easy fit no matter where the panels are placed. The panels themselves can easily be mitre cut to fit 90 degree angled structures.
Unlike many products on the market Outwater's panels are incredibly lifelike, closely resemble real stone and therefore are great for bringing a natural feel to any structure. The panels themselves are substantial covering 5.5 Square feet each.
Ledgestone panels contain stone elements that resemble a less porous sandstone. Individual pieces resemble stone without the uniformity that often accommodates man made brick facade.
Rockwall panels are similar to Ledgestone. It features more size differentiation of the individual stones and is made to resemble a more porous and textured rock for a rugged look. Together with the texture, certain parts of the stone protrude farther out for less uniformity and substantial graininess.
Lastly, the Stonewall panels feature the largest of the stone elements within its pattern. Due to their size these stones look like natural rocks. The large stone features makes them ideal for spacious rooms and facades where smaller stone elements may be overlooked.
The convenience of Outwater's Stone Clone panels is apparent to anyone who has dealt with lengthy professional installations. Unlike their Nature-made counterparts Outwater's panels do not deteriorate over time. UV coated and pre-finished, the collection is great for indoor and outdoor applications and will not color fade or rot when exposed to the elements or sun.
Unlike real stone, requiring heavy equipment for customization and installing, Outwater's panels require only ordinary woodworking tools. Flat surface mounting requires nothing more than screws and adhesive to be installed. Concealing the mounting screws is effortless with any store-bought tan or beige putty.
Countless uses of the durably constructed panels for indoor applications include fireplace and staircase accentuation and wall adornment. In outdoor applications many use the panels to conceal cement elements which often give a highly industrial look to residences and outdoor recreational spaces, like porches and lanais.
Outwater further simplifies the process by conveniently shipping via UPS FREE of charge on orders of 20 or more panels.
For further product information, please click HERE
About Outwater [Outwater Plastics Industries, Inc. + Architectural Products by Outwater, LLC]: Outwater can be contacted Toll Free at 1-800-631-8375 (For sales and product information in the USA & Canada) / 1-201-498-8750 (For sales and product information outside of the USA & Canada) or viewed online at http://www.outwater.com
From the vendor of a single product in August 1972, Outwater, with sales and distribution facilities in New Jersey and Arizona, is recognized today as a well-established international manufacturer and stocking distributor of more than 65,000 standard and innovative component products required by woodworkers, cabinet and furniture manufacturers, builders, remodelers, designers, architects, point-of-purchase and display fixturing manufacturers, OEM's, as well as a diversified range of other commercial and retail end users.