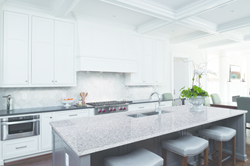 These new natural stone colors reflect the ever growing and popular demand of countertops that utilize shades of white, gray, cream and black.
Orange, CA (PRWEB) August 03, 2016
M S International, Inc. (MSI) is a leading U.S.-based distributor of countertops, decorative mosaics and wall tile, flooring, and hardscaping materials. The company is introducing 20 new colors to their already industry-leading inventory of granite, quartzite, and other natural stone slabs.
Rupesh Shah, President of MSI, explains the color choices: "The natural stone slab industry as a whole has been slow to react in changing their color offerings to reflect changes in trend. With the reduction in popularity in both dark granular granite colors and yellow, brown and gold granites, consumers are demanding more choices in affordable selections of whites, grays, creams and blacks. MSI conducted an exhaustive process in reviewing over 200 potential colors from around the world to finalize the 20 new granite colors for 2016."
New colors include Alps White, Avalon White, Black Space, Bohemian Gray, Jasmine White, Oyster White, Persa Cream, Petrous Gold, Petrous White, Silver Creek, Silvestre Gray, Summer Beach, Venice Cream, Whisper White, White Bahamas, White Glimmer, White Nile Quartzite, White Sand, White Symphony, and White Valley.
Black Space—a Brazilian granite with swirls of blacks and crisp whites—is just one of the striking new stone colors, and perfectly ties together a black-and-white design. Also from Brazil, White Valley is a neutral white granite with medium variations of grey veins and other soft tones. Next, imported from India, Petrous Gold is a high variation granite, but features warm golds, creams, and chocolate browns, with flecks of grays and blacks throughout. Also featured is quartzite White Nile; its soft gray background and veining, complemented with hints of gold, combines the elegant look of marble with the durability of granite.
These new natural stone slab colors are now available and coordinate well with many other tiles and slabs throughout MSI's extensive product lines. For more information or to view the full collection of colors available, click here to visit our Slabs and Countertops page.
About M S International, Inc.: Founded in 1975, MSI is a leading nationwide distributor of flooring, countertops, decorative mosaics and wall tile, and hardscaping products. Headquartered in Orange, Calif., MSI also maintains distribution centers across the U.S. and Canada. MSI's product line includes products imported from more than 35 countries on six continents. In addition, MSI carries an extensive offering of porcelain, ceramic, glass, and quartz products. The company maintains an inventory of more than 125 million square feet. For more information on M S International, Inc., visit http://www.msistone.com.