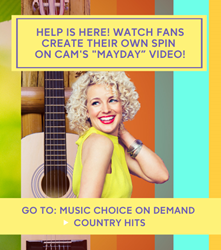 NASHVILLE (PRWEB) July 18, 2016
The Country Music Association continues its strategic promotional partnership with Music Choice, the No. 1 Free Video On Demand Provider in the U.S, for 2016. The partnership kicks off today with CMA Music Festival content appearing on Music Choice On Demand, Music Choice Music Channels, the Music Choice app, and MusicChoice.com. As part of the partnership, Music Choice will promote CMA content through 2016 for marquee events including "The 50th Annual CMA Awards" and "CMA Country Christmas." Music Choice is available in 50 million homes nationwide.
To kick off the promotional partnership, CMA and Music Choice will join forces to promote "CMA Music Festival: Country's Night to Rock," which airs Tuesday, Aug. 3 (8:00-11:00 PM/ET) on the ABC Television Network. Music Choice Video On Demand will feature behind-the-scenes content from this year's CMA Music Festival, artist interviews, and music videos from Sam Hunt, Carrie Underwood, Luke Bryan, Kelsea Ballerini, Blake Shelton, and many more. Highlights include:

Maren Morris Interview - Morris takes fans through her CMA Festival experiences and talks about what she looks forward to the most at the Festival.
Making of the "Mayday" Music Video with Fans - Inside Fan Fair® X, CMA Fest's Ultimate Country Music Fan Experience, Music Choice gave fans a chance to appear alongside Cam in a new music video for her hit "Mayday."
Go behind the scenes to see fans show off their best moves and award-worthy performances to create this sing-along music video.

Cam "Mayday" Fan Video - Watch the exclusive fan made version of Cam's music video "Mayday."
Taste of CMA Fest - Couldn't make it to CMA Fest this year? Don't panic! Music Choice is bringing you one solid recap of everything you missed at the 2016 CMA Fest including the grub, activities, performances, and interviews with today's hottest Country stars.
Festival Survival Guide - An exclusive look at how vendors and fans prep to survive the Festival. First timers share their action plan while experienced Festivalgoers take you through their survival tricks.
Behind the Lines: Cam "Mayday" - Cam takes viewers behind-the-scenes of her song "Mayday," sharing the tales that inspired the hit song.
Music Choice's Today's Country Music Channel will also feature a CMA Music Festival takeover leading up to the special from July 29-August 3. CMA Music Festival artist facts and images will appear across Music Choice's Pop Country, Country Hits, and Today's Country Music Channels. CMA Music Festival programming will also takeover the Today's Country Video Channel (available via the app or MusicChoice.com) featuring music videos and original content from CMA Music Festival artists.
For more information on Music Choice log on to musicchoice.com.
About CMA Music Festival: The Ultimate Country Music Fan Experience began in 1972 as Fan Fair®, bringing 5,000 fans to Nashville's Municipal Auditorium. Forty-five years later, the now legendary Festival has become the city's signature music event with a daily attendance of more than 88,500 from every state and two dozen foreign territories. The event has been filmed for a network television special, a feat no other music festival has achieved, since 2004 and this is the 12th year the special will air on ABC. "CMA Music Festival: Country's Night to Rock" is executive-produced by Robert Deaton.
About Music Choice: Music Choice, the multi-platform video and music network, delivers its music programming to millions of consumers nationwide through their televisions, online, and mobile devices. Music Choice programs dozens of uninterrupted music channels; produces originals that feature today's hottest established and emerging artists; offers thousands of music videos; and launched Music Choice Play, the music video, lifestyle, and entertainment network for Millennials. For additional information log on to MusicChoice.com | Twitter: @MusicChoice | Facebook: facebook.com/MusicChoice.
###
For information, logos and, downloadable photos, visit our media-only website, CMApress.com. You can also follow our current news on Twitter at twitter.com/CMAcloseup and join the CMA Press Facebook group at facebook.com/groups/CMApress.
Press Contact:
Krista Dial (CMA) (615) 244-2840
Josefa Paganuzzi (Music Choice) (646) 459-3357