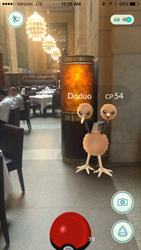 New York, NY (PRWEB) July 19, 2016
Want to catch 'em all? Michael Jordan's The Steak House N.Y.C. located on the north and west balconies of Grand Central Terminal has been invaded! The restaurant recently revealed at least three Pokémon are found in the iconic steak house. In addition, anyone who shows the bartender that they caught one at the restaurant can order a Pikachu-yellow Pineapple Margarita to rest up and fuel up for more 'monster' catching adventures.
Players are encouraged to take a break from all the hunting with this new cocktail made with tequila, puréed pineapple, triple sec, lime juice, and the energy drink Monster – to help fuel their search!
The Pikachu Pineapple Margarita will be available at the restaurant's bar for $12 for the remainder of the summer season.
The steak house is known for both its selection of perfectly charred steaks, pristine seafood, lush desserts and classic dishes with an extensive beverage selection including wines, local craft beers and signature historic cocktails.
The restaurant, designed by David Rockwell in 1998, pays homage to glamorous train travel, notably the 20th Century Limited, and has a design and layout reminiscent of a dining car. Located on the balcony of one of New York's most beautiful architectural landmarks, Grand Central Terminal, it overlooks the stunning Beaux-Arts main concourse with views of the famous clock, stories-high windows and constellation-embellished cerulean blue ceiling. The restaurant's bar on the west balcony has become an iconic gathering place for social interaction for commuters and tourists alike.