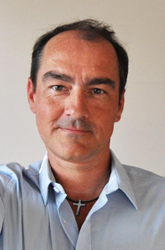 Wearing a Nano Bible Pendant lets me keep the words of my faith close to my heart. It makes me feel more connected and reassured.
(PRWEB) July 18, 2016
First Nano Jewellery brought you the world's smallest Bible. Every single letter of the Holy Bible on a miniscule microchip, beautifully incorporated into a cross pendant to keep close to your heart.
Now Nano Jewellery is helping you raise funds for your church or community. Whether you're a Christian media organization, enthusiastic Catholic blogger, Bible study group, large or small congregation, manage a social media group, or run a magazine then this partnership is perfect for you.
Through an exciting Fundraising Partnership Program, Nano Jewellery is sharing its invention with believers around the world. It means catholic communities benefit from Nano Bible pendant sales while at the same time spreading the words of their faith. They can even offer discount coupons to their supporters, bringing ownership of this truly unique little Bible within everyone's reach.
"The buyer gets a Nano Bible pendant at a discounted rate and your church or community group raises funds. It's a true win for everyone." said Mr Mennel of Nano Jewellery.
To help its partners launch an attractive fundraising project, Nano Jewellery designed a range of banners and links to place on their websites and/or social media sites. As soon as a user clicks on one of the links, they will be taken to the Nano Jewellery website. For every Nano Bible pendant sold, a commission is paid. Partners may log in any time to find out how their banners are performing and how much funds have been raised.
Congregations and community organizations opting for the discount coupon offer, will receive a unique code tied to their fundraising profile. This will allow them to pass on a discount to the buyer.
The Nano Bibles are so special that the Gutenberg Museum in Mainz, Germany added one to their collection of valuable printed works. The famous Gutenberg Bible was the first major book printed using mass-produced movable type in the 1450s.
Who knows what inventor Johannes Gutenberg would have thought of all 1,189 chapters or 31,102 verses of the King James Bible printed onto a wafer thin microchip of 4mm by 4mm with an electron beam?
With the title visible with the naked eye, it's the world's smallest recognizable Bible. The rest of the content, each letter of one micro-meter in height, can be seen through a 1200x magnification microscope.
What better product can there be to associate a fundraising program with? It's German engineering and precision at its best. The beautiful titanium polished cross pendants are manufactured in Pforzheim, the center of Germany's jewelry and watchmaking industry.
To apply for the Nano Jewellery Fundraising Partnership Program, go to http://nanojewellery.com/fundraising/ or send an email to info@nanojewellery.com