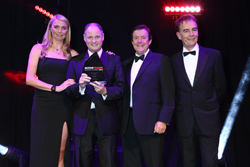 The fact that the larger Lookers group has essentially won the Dealer Group Award back-to-back perfectly illustrates how successful the integration of our acquisitions. As we move forward we aim to now build on the success as an innovative retailer.
London (PRWEB UK) 18 July 2016
Over 1,200 guests attended the 2016 Motor Trader Awards at the Grosvenor House Hotel, London, and saw Lookers take home the Dealer Group of the Year prize, which recognises the motor dealer who has been most successful in growing sales and profitability in four or more sites during the past year. The achievement is made all the more remarkable by the fact that the same award was won by Benfield Motor Group in 2015 before it was acquired by Lookers in September of that year.
Recently Lookers has grown through acquisition, significant investment in new facilities and the introduction of the latest industry technology as it looks to become the retailer of choice for motorists in the UK. However, it was the hard working people within the business that Lookers CEO Andy Bruce was most eager to congratulate. He said: "This award is dedicated to the fantastic team that we have here at Lookers. I am proud and immensely privileged to be working alongside such an amazing group of people. We should all take a moment to celebrate this achievement. Every single one of our team has made a fantastic contribution to this result."
Andy was also given special recognition on the night by receiving the Motor Trader CEO of the Year Award in recognition of his innovative and strategic vision, which has seen Lookers consistently grow over the last 7 years into a business with a £3.65bn turnover and one which sees its customers drive away over 180,000 new and used vehicles each year from over 160 dealerships across the country.
Lookers has also been keen to develop its corporate responsibilities having recently reduced its energy consumption as part of a £2m a year deal.
In addition Andy was instrumental in the £87.5m acquisition of North East based motor retailer Benfield, which has since successfully integrated into the wider Lookers group. The successful merger is demonstrated through customer loyalty and increased sales and staff retention of key Benfield colleagues, some of which have been promoted to group-wide roles within the enlarged group.
Nigel McMinn, Managing Director at Lookers, said: "The fact that the larger Lookers group has essentially won the Dealer Group Award back-to-back perfectly illustrates how successful the integration of Benfield has been. As we move forward we aim to now build on the success of these awards to become even better at delivering world class customer service and continually lead the industry as an innovative retailer."