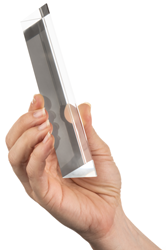 "It's designed to add a stunning effect to any frame while still maintaining a natural look."
Atlanta, GA (PRWEB) July 19, 2016
The team at A&M Film and Photo is pleased to announce the launch of their latest product, the 6" Triangular Prism. This prism can be used with any camera to create light leaks, rainbow reflections, and image refractions, allowing photographers to add a bend-and-curve like distortion to any photo that makes for a unique and artistic end result. Customers can start prisming now, finding this premium optical glass prism exclusively on Amazon.com.
According to A&M Film and Photo Founder and wedding photographer Martin Friedler, "Prisms are a fantastic tool professional photographers can use to add an artistic touch to any image without any need for post-production editing. Our triangular prism comfortably fits in your hand so it's easily manipulated in front of the lens. It's designed to add a stunning effect to any frame while still maintaining a natural look."
The scratch-resistant triangular prism is thoughtfully engineered with professional grade borosilicate crown glass that eliminates all bubbles that cause the inside to be fuzzy or hazy. Lightweight and portable, the prism is the perfect addition for any photographer's camera bag.
Buzz about prisming was widely reported on the Internet in recent years when wedding photographer Sam Hurd pioneered the technique. Since then, prisming quickly became a key style used among wedding photographers. A&M Film and Photo Founder Martin Friedler says that many of his clients from wedding shoots choose the prisming photo as one of the top pictures to frame and display.
The secret is in its construction of high quality, crystal clear glass. Simply position the prism in front of the lens and focus on exactly where the light source is coming from to get light leaks and reflections.
"What better way is there to capture a moment?" said Austin, an A&M Film and Photo customer and photographer. "I recently discovered prisming on Youtube and tried out several prisms. Many were too small or arrived somewhat fuzzy inside. Some have sides that were too wide which cover the lens so much that the entire image was distorted. This model is the perfect size for my shoots. My friends in photography class liked my photos so much, they all got one too."
Photographers everywhere are encouraged to follow A&M Film and Photo on Instagram to join the growing prisming movement.
Each prism includes instructions to help customers take expert prisming shots in minutes. The product retails for $16.97, but for a limited time, save 20% by entering code PRISMING at checkout. A&M Film and Photo backs their product with a no-hassle, lifetime money-back guarantee. To purchase the product, visit here: https://www.amazon.com/gp/product/B01EVYFAL4