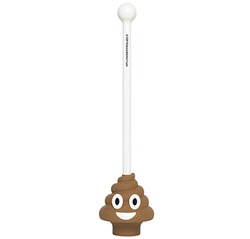 We dream of using this fun and novel plunger as a platform to give back to clean water and sanitation efforts around the world and as a company we aim to support these initiatives
Portland, OR (PRWEB) July 18, 2016
Poo Plunger, the incredibly happy poop emoji plunger that lets users unclog their toilet with a smile, is live on Kickstarter and raising funds to bring the project to life.
The Poo-Plunger™ is a cute and effective new plunger that will instantly bring new and fun charm to the bathroom with the smiling poop emoji ensuring that this is one plunger that won't hide behind the toilet.
The Plunger Project is the initiative behind the project that is hoping to change the perception of the boring toilet plunger. 2.4 billion people do not have access to proper sanitation or clean drinking water. This is a continuing crisis that is getting worse every day as this earth's population increases.
"We dream of using this fun and novel plunger as a platform to give back to clean water and sanitation efforts around the world and as a company we aim to support these initiatives," says co-founder Carl Hickerson, "Displaying the Poo-Plunger in your bathroom is a way to bring awareness to this crisis and it shows your support of a world with easily accessible clean water and sanitation for everyone, everywhere, at all times."
For every Poo-Plunger purchase, The Plunger Project will donate to and support clean water and sanitation effort around the world! #PlungerProject is printed on the handle of every Poo-Plunger. This hashtag will constantly be updating social media followers on how Poo Plunger contributions are helping around world. The Plunger Project wants to build a community of creative, positive thinkers that give something back to this world. The Poo-Plunger's patent pending design is ready for production and the company has turned to global crowdfunding platform Kickstarter to raise funds to enter the initial production run.
"It all started with a joke and the joke became a seriously funny product. The Plunger Project is the only company using fun novelty items to generate positive solutions worldwide," adds co-founder AJ Ramadan.
Support Proper Sanitation and Clean Drinking with the World's Happiest Plunger. The Poo-Plunger is currently live and available to support on Kickstarter: http://kck.st/29G8wxx
About Poo Plunger
The Plunger Project is the only company using fun novelty items to generate positive solutions worldwide. Established,  March 2016 in Portland, Oregon, their mission is to build a community of creative, positive thinkers that give something back to this world. To learn more visit http://www.plungerproject.com
###