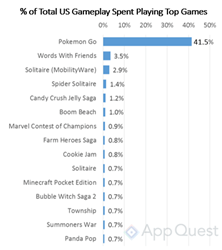 Aliso Viejo, CA (PRWEB) July 18, 2016
Pokemon Go, by Niantic Inc., has taken the mobile gaming world by storm. Within 5 days of its release, Pokemon Go was played more in the U.S. than the next 99 most popular apps combined, according to data from the AppQuest.io CrowdSource Community, where millions of global consumers anonymously donate real-time app usage and performance data on more than 6 million app versions.
Released on July 6th, Pokemon Go has become a cultural obsession, captivating the minds and time of children and adults alike, rekindling fond memories of the popular card game. While the popularity of Pokemon Go is widely visible as you can see hordes of mobile phone users on the prowl to catch rare Pokemon, it is stlll truly amazing how quickly the game has jumped to the top of the rankings.
Since its launch on July 6, Pokemon Go has skyrocketed, and has taken over the massively saturated mobile games industry. As of July 12th, Pokemon Go made up 41.5% of all Android game usage. That's not a typo. In a U.S. game market containing hundreds of thousands of games, Pokemon Go is used more than 40% of the time. The next most popular game, Words with Friends garnered only 3.5% of all U.S. gameplay.
Pokemon Go has overwhelmed a gaming market previously dominated by behemoths King, Zynga, and Minecraft, each with hundreds of millions of downloads.
While Pokemon Go's staying power is yet to be determined, there's no denying that the game is dominant in the present, and has left all other games in the rearview mirror.
About AppQuest.io
You can visit AppQuest.io today to view the performance of any Android app. See which apps are really used the most, as opposed to those that are merely downloaded the most, and see the battery, data, and memory performance of any app. AppQuest is also included in True Booster (free on Google Play), an app that enables you to identify which apps are draining your battery, exhausting your mobile data, and taking up precious storage.