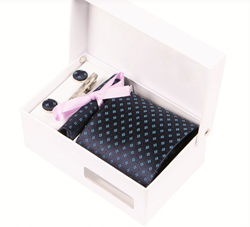 These are not your Grandpa's ties
(PRWEB) July 18, 2016
Gone are the days where ties are supposed to be black, brown, or navy. The shape and style suits has evolved from a boxy jacket and pleated slacks into something more fitted, sleek, and detailed. So if the style of the suit has changed why can't the tie change too?
A suit and tie have always gone together like peas and carrots. Due to changes in men's fashion a suit and tie are not enough. Stylish icon celebrities like Nick Canon, Steve Harvey, and Justin Timberlake ( to name a few) are inspiring a new trend. Pocket squares, cuff-links, and ties all working together to create a definitive look.
Poschet & Co. has a new product line that will make any Men's Wearhouse or Jos. A. Bank's wardrobe specialist jump for joy. The line now has it all in one convenient box; Introducing the Jacquard Tie Set.
No matter the occasion there is a set available to the consumer. If the office wardrobe needs a upgrade, there is fantastic set of ties that are perfect for the occasion. A wedding is already a headache in itself, but why not give the grooms men a gift with style. The Jacquard Tie Set includes a tie, cuff-links, pocket square, and a tie clip. The line is geared towards men no matter the occasion, no matter the look the consumer is trying to achieve. Poschet&Co. also offers just the tie and pocket square combination for those who just a clean cut look or just are not ready to jump into the pool of suit accessories.
Just like other men's apparel stores, Poschet&Co. will cater to your needs. Men's Wearhouse and Jos. A. Banks or other stores similar, there is a wardrobe specialist that will gather up matching suit accessories to pair with the suit(s) that will be purchased, at Poschet&Co. it is no different. The consumer has a suit the company will provide the necessary suit accessory pairings, all done with a click of a button.
These are not your grandpa's ties. No longer are men confined to just a plain tie and boring suit combinations. The revolution on better dressed, dapper men is on the horizon. My fellow gentlemen, suit up and enjoy the look and feel of designer ties in one convenient box, picked by you.