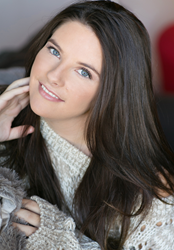 "If I can help young women to stay safe and realize the dangers; that there are people out there who will spike your drink and take advantage, then I will continue to make films and bring awareness on subjects I feel strongly about."
Los Angeles (PRWEB) July 18, 2016
Monique Oberholzer, a former beauty queen, has found herself fast outgrowing her pageant days and tackling the more serious subjects of life with her directorial debut 'Shameless' which she also wrote and starred in. The short film has received multiple nominations at Cannes, LA film fest, LA movie awards, Phoenix Film Fest, and Bangladesh International Open Film Festival. It was nominated for Directing, Acting, and Writing. 'Shameless' touches on the troubling subject of drugs and the effects on young women in particular.
"If I can help young women to stay safe and realize the dangers; that there are people out there who will spike your drink and take advantage, then I will continue to make films and bring awareness on subjects I feel strongly about."
The exceptionally talented and versatile young actress is not only a humanitarian but has a soft spot for nature, specifically in her home of South Africa where she was raised. Monique plans to make more films incorporating her culture and mixing it with her love for the US. She is an active member of charities involving animals and children back home in South Africa in her spare time.
Monique is already planning her next project, a psychological thriller, to be shot in November in Los Angles as well as writing a feature comedy scheduled for 2017. "I want to direct films as well as star in them because there is a certain feeling I want the audiences to feel. And as for me, portraying and writing about personal experiences lets me do that." She says, "I do have an interest in real life psychology; the human mind is a very complex and fragile thing."