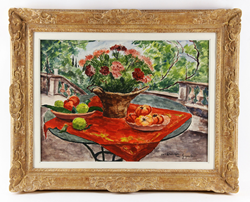 Beverly, Massachusetts (PRWEB) July 18, 2016
Kaminski Auctions is pleased to present the estate of the late Baroness Mary McFall de Gunzburg of New York City, New York and Miami Beach, Florida at their July 24th auction beginning at 10:00 am EST. Happily married for over forty years to Baron Guy de Gunzburg, the two shared a passion for world travel and collecting art and antiques.
The Baroness also had a lifelong passion for art and was a professional artist herself, spending many hours at the Metropolitan Museum of Art, of which she was a patron.
Her art collection includes an Andre Dunoyer de Segonzac(French, 1887-1974), watercolor titled "Le Parier Fleuri" with the original sale receipt from the Schoneman Galleries, Madison Avenue, New York City valued at $15,000-$25,000. Also of importance is a Fernand Renard (French, 1912-), photorealistic still life, oil on canvas estimated at $8,000-$12,000.
Purchased from Arthur Tooth and Sons, Ltd of London, England her collection includes two Felix Kelly (New Zealand, 1914-1994) paintings. Both paintings are tempera on masonite, the first titled "The Squeaky Pavillion" and the second "The County Church." They are estimated at $5,000-$8,000.
Paintings by Robert Philipp (American, 1895-1981), Charles van den Eycken II (Belgian, 1895-1923) and Louis Francois Picard (French, 1820-1866) are also on offer.
Another highlight of the sale certain to bring considerable interest is a Jane Peterson (American, 1876-1965), oil on canvas of sailboats measuring 18 inches high by 12 ¾ inches wide conservatively valued at $2,000-$4,000 from the estate of a prominent Boca Raton, Florida surgeon.
The estate of Baroness Mary McFall de Gunzburg also features an eclectic collection of fine furniture collected over a lifetime of travel throughout Europe. A featured piece is a rare neoclassical Portuguese bed of carved gilt wood valued at $3,000-$5,000. There is also a period Louis XV serpentine chest with marquetry and ormolu mounts estimated at $2,000-$4,000, a French abattant secretary desk with marquetry and a marble top, as well as an interesting carved wood Italian Blackamoor stool among other French chairs, daybeds, tables and upholstered pieces.
Decorative art highlights include a pair of 17th century Italian bronze doré unicorn figures from the workshop of Hand Reisinger, Augsburg, Bavaria, Germany and a pair of 18th century Italian carved wood putti as well as many important Russian silver pieces.
Of particular interest is an antique Russian enameled centerpiece, with handle, marked "84 / P. Ovchimnkova" estimated at $15,000-$20,000, a 19th century Russian solid silver samovar signed and marked "84," estimated at $14,00-$18,000 and a Russian solid silver kovsh, also marked "P. Ovchinkova " showing two Vikings with armor, marked "84" in Cyrillic estimated at $9,000-$12,000.
Two significant icons on offer include an 18th century Russian enameled icon showing six saints with floral details in a gilt wood frame decorated with carved grape clusters valued at $13,000-$18,000 and a very important 20th century Russian icon depicting the Transfiguration of Jesus. This rare piece, hand painted on a wood panel is housed in a gilt silver engraved frame mounted with oval and round aquamarines and twisted wires. The enamel and chain hanger is encrusted with semi precious stones and a cross hangs below. Hallmarked "84" with Kokoshnik facing right and the Greek letter delta for Moscow (1908-1914) and bearing the mark "KK" for master Kuzamakonov.
Fans of antique canes will not want to miss an especially important collection from Boca Raton. Collected over a lifetime this cane collection features many hand carved rare and unusual pieces and will be sold individually.
In addition to the Baroness's estate there are many important pieces from various California and local estates. Of particular interest is a painting attributed to Ferdinand Bol, "#105 La Guerison de L'Infirme," oil on wood panel showing a saint healing the sick and another by Daniel Sabater y Salabert (Spanish, 1888-1951), titled "Hopeless Love," and inscribed "D'Valencia (Espana) Paris," from a California estate.
A large selection of European school paintings from the collection of William Kester of Los Angeles and Palos Verdes, California,Boucheron cufflinks, Sevrés "Pompadour " vases, Asian items and Persian carpets round out the highlights of this outstanding auction.
Preview for the auction will be held at the Kaminski Auction gallery, 117 Elliott Street, Rt. 62, Beverly, Massachusetts, Thursday, July 21-Saturday, July 23 and day of sale starting at 8:00am. For more information go to http://www.kaminskiauctions.com and sign up to bid with KaminskiLIVE.