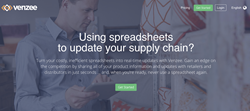 Ecommerce is a trillion dollar industry running on inefficient, costly spreadsheets.
Vancouver, BC (PRWEB) July 18, 2016
Venzee Inc., an award winning product information management and connectivity solution for the retail industry, announced today the release of version 3 of its cloud based platform.
Starting today, Venzee.com supports export to more than one hundred popular apps, solutions and big retailers including Wayfair, Amazon, Sage ERP, Shopify, Dropbox, WooCommerce and Walmart.The company also announced that pricing plans including their popular free plan for manufacturers, will include unlimited products.
"Version 3 or V3 is our biggest release to date. For manufacturers and retailers, using the Venzee platform to import, share and export products to a variety of channels is easier and faster than ever" said Kate Hiscox, CEO at Venzee. "With 90% of the world's manufacturers still using spreadsheets to share products and inventory, this is the number one problem facing the trillion dollar ecommerce industry."
"This year, Venzee has experienced dramatic user growth and we've turned that into usability intelligence that is reflected in V3", said Andrew Greenwood, Director of UX at Venzee. "This release is customer driven from the top down and I'm looking forward to seeing V3 translate into revenue growth."
"Our goal with V3 is to make it as easy as possible for manufacturers and retailers, of all sizes, to achieve their goals around product information management and export," adds Marco Sylvestre, CTO at Venzee. "Our transformation engine is one of the most powerful in the industry and goes beyond basic connectivity that move just part of your product data without support for variants or existing stores."
The Venzee.com platform is used by 2,000 companies including household names like Anheseur Busch to eliminate spreadsheets from their supply chain. Venzee supports customers in more than 30 countries including China.
About Venzee
CIX and Generator Challenge winner, Venzee.com replaces product spreadsheets with dynamic exports to more than a hundred popular apps, solutions and big retail. Manufacturers use Venzee to share their products in real-time with retailers including retailers that require specific formats. The Venzee platform was built to export and sync millions of products in real-time, making enterprise grade connectivity available to businesses of all sizes. Venzee counts customers in more than 30 countries including China and is available in Spanish, French, Brazilian Portuguese and Mandarin.