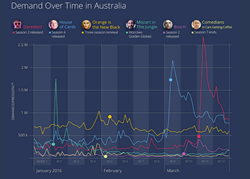 Beverly Hills, California (PRWEB) July 19, 2016
Parrot Analytics releases an intelligence report detailing the demand for 28 SVOD-exclusive titles in 10 global markets during Q1 2016. As traditional measures of popularity rely on access to viewership numbers that SVOD platforms keep close to their chests, this type of analysis is the first of its kind in the industry.
Parrot Analytics captures an unprecedented range of online demand expression platforms that include video streaming, social media, blogs and micro-blogging platforms, fan and critic rating sites, file-sharing sites and peer-to-peer protocols to enable the industry to compare audience demand for content across all distribution platforms in all markets around the world, on the same measurement scale.
In its Q1 2016 Digital Originals report, Parrot Analytics reveals the SVOD platforms that have the most in-demand original content in different countries around the world. Below is a sample of key insights available in this report - the demand for six digital original series from January to March 2016 in Australia.

During this quarter, four digital original series released a new season: Netflix's House of Cards and Daredevil, Amazon's Bosch, and Crackle's Comedians in Cars Getting Coffee. All four increased in demand after release, but Netflix's titles are more popular by far: demand for Daredevil increased by over 600%.
Orange is the New Black was, on average, the most in-demand digital original title during this quarter, and had a slight increase in demand on the announcement of its three-season renewal in February.
After its two wins at the Golden Globes, Mozart in the Jungle had a large, but temporary, spike in audience demand.
To get unprecedented insights into demand for digital originals in other global markets, such as the United Kingdom, Germany, Brazil, and Sweden, read the Q1 2016 edition of Parrot Analytics' Digital Originals Intelligence Report here.