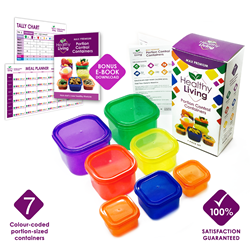 Diet Portion Control Containers Set
California, United States (PRWEB) July 25, 2016
Max Premium Global, an Amazon Top Seller, has today confirmed the official global release of its brand new International Bestselling Healthy Living 7 piece portion control containers set.
1,029 verified positive reviews on the Amazon platform give the company an impressive 4.7 out of 5-star rating. "Healthy Living 7 Piece Portion Control Containers Kit with Complete Guide, Multi-Colored Coded System, 100% Leak Proof," is an international bestseller in major categories, including: Home and Kitchen, Kitchen and Dining, Storage and Organization, Food Storage, Food Savers and Storage Containers and Travel and To-Go Food Containers. Inspect: https://www.amazon.com/Healthy-Living-Containers-COMPLETE-Multi-Colored/product-reviews/B01AMCTFBK/ref=cm_cr_arp_d_viewpnt_lft?ie=UTF8&showViewpoints=1&sortBy=helpful&filterByStar=positive&pageNumber=1
"As a growing company, we have experienced unprecedented levels of customer reaction and loyalty to our highly rated new offering of dynamic multi-colored portion control containers," asserted, Ben Johnson, CEO, Max Premium Global. "This new Healthy Living range is a welcome addition to the Max Premium Global family of products for our customers living in the United States and Canada and the United Kingdom. This durable line is super affordable. We are thrilled that the 7 piece system became an instant international hit allowing users to control calorie intake without counting calories. It is revolutionizing the lunch box and food storage containers market by promoting a healthier lifestyle."
With bases in North America and Europe, the rapidly expanding e-commerce company and its growing team of highly skilled professionals have seen demand spike on its online store with massive levels of User-Generated Content, UGC dominating the authentic customer review sections.
Official projections in the United States estimate that by 2018 obesity will cost America $344 billion dollars per year, according to the President's Council on Fitness, Sports & Nutrition. Inspect: http://www.fitness.gov/resource-center/facts-and-statistics/ Every easy to carry and store Healthy Living containers set is manufactured to the highest standards and is BPA and DEHP free. The comprehensive step-by-step system allows the organization of meals without measuring or leakage for use with vegetables, fruits, protein, carbohydrates, healthy fats and cheese and seeds and dressings. The sets are microwave, dishwasher, and freezer safe.
About:
Max Premium Global was established to disrupt the global online health and wellness industries. For up to 9% off bulk orders visit: https://www.amazon.com/Healthy-Living-Containers-COMPLETE-Multi-Colored/dp/B01AMCTFBK/ref=sr_1_4?s=kitchen&ie=UTF8&qid=1467105802&sr=1-4&keywords=portion+control+containers A Top Seller on Amazon, Max Premium Global is committed to an iron clad 100% satisfaction guarantee across its entire range for added peace of mind to its customers around the world. See: http://maxpremiumglobal.com/
Media Contact:
Ben Johnson, CEO, Max Premium Global.
Email: Info(at)MaxPremiumGlobal(dot)com
Tel: +447557522788.