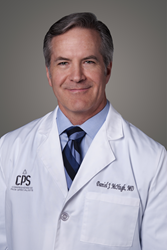 "Helping patients relieve pain and regain life."
Nashville, TN (PRWEB) July 20, 2016
Dr. Daniel McHugh specializes in the diagnosis and treatment of musculoskeletal injuries and other painful conditions. He uses his knowledge of exercise, kinesiology, and advanced techniques in minimally invasive pain relief to restore function and rehabilitate patients ranging from elite athletes to grandparents.
Dr. McHugh earned a degree in exercise physiology while working as a graduate assistant strength and conditioning coach for the University of Louisville's athletic department. After graduating from medical school, he completed his residency in physical medicine and rehabilitation at The Ohio State University. While there, he was awarded the American Medical Association's Leadership Award for his work with disabled athletes.
He is a member of Comprehensive Pain Specialists, the nation's largest practice of Board-Certified Physicians specializing in interventional pain management. He has been recognized for several years as one of Nashville's "Top Doctors" by U.S. News & World Report and Nashville Lifestyles.