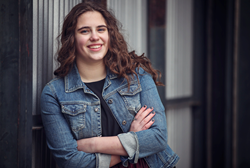 "With 100,000 people expected to attend the US Bank Stadium open house, we really hope to make 2016 our biggest year ever providing backpacks for kids in need when the school year begins." - Mandi Simon
EAGAN, Minn. (PRWEB) July 18, 2016
A brilliant and caring idea of a 7-year old girl from Eagan back in 2011 has led to a very important role during this month's grand opening of the new US Bank Stadium in Minneapolis. Simon Says Give is a Twin Cities area non-profit organization and brainchild of Mandi Simon. Mandi, now 12, is watching her dream pay off as it provides a powerful boost for thousands of area kids.
As founder and chief charity officer of Simon Says Give, Mandi's 2016 back-to-school preparations will place her front-and-center during the July 23-24 open house for Minnesota's spectacular new multi-purpose stadium. Mandi and a team of student and adult volunteers will staff a Simon Says Give tent that will have a prominent place on the Plaza during the big event.
The Simon Says Give team is encouraging people attending the stadium gala to donate money or back-to-school supplies in support of the organization's High Five for Supplies® drive. This year's goal is to support 10,000 kids with backpacks filled with school supplies. To date, Simon Says Give has provided more than 18,000 area students with much needed backpacks and school supplies.
"Being invited as the only non-profit to participate in the US Bank Stadium open house is an unbelievable honor and we are excited about the opportunity to get thousands of Minnesotans involved with High Five for Supplies," said Mandi Simon. "With 100,000 people expected to attend the US Bank Stadium open house, we really hope to make 2016 our biggest year ever providing backpacks for kids in need when the school year begins."
Stadium Open House Event Details
The Minnesota Sports Facilities Authority is hosting the open house and celebration of the new US Bank Stadium, with several businesses and sponsors having active roles in this event.
When: Saturday, July 23, from 9 am to 8 pm, Sunday, July 24, from 10 am to 4 pm
Where: US Bank Stadium on the Plaza in downtown Minneapolis
Other Opportunities to Support Simon Says Give
For those unable to visit the Simon Says Give tent during the stadium open house, Simon Says Give is conducting a two-day High Five for Supplies event, during which volunteers will help pack thousands of backpacks with the donated school supplies and other necessary items.
Volunteers are needed August 6-7 from 9 am to 4 pm for the packing day, which will be held at St. Thomas Academy High School, located at 949 Mendota Heights Rd, Mendota Heights, MN 55120.
In addition, financial contributions can be made by visiting the Simon Says Give website and people can follow Simon Says Give on Facebook at http://www.facebook.com/SimonSaysGive/.
For more information or to volunteer with Simon Says Give, contact info(at)simonsaysgive(dot)org.
MEDIA CONTACTS
Joe Thornton
612-355-9692
joet(at)aimclear(dot)com
Dina Simon
651-270-1118
dina(dot)simon(at)simonsaysgive(dot)org