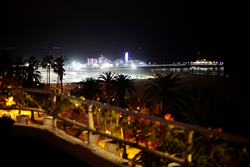 'ONYX - A brand new oasis of timeless sophistication and glamorous intimacy above the hustle and bustle of Los Angeles.'
Santa Monica, California (PRWEB) July 20, 2016
Welcome to ONYX. Formerly Suite 700, Santa Monica's venerable Hotel Shangri-La has relaunched its iconic open-air rooftop bar – the only one to boast 360-degree views of the Pacific Ocean – with a chic makeover to make the interiors as alluring as its guests.
Meticulously designed and conceptualised by its owner, Tamie Adaya, the ultra cool new bar is heavily influenced by her tastes: a stylish mélange of cultural influences celebrating Brit Pop, Glam Rock, Steampunk, Las Vegas Rat Pack with a dash of Studio 54 and 1970s Space Age.
From the backlit cappuccino-slab bar, gold-veined mirrors and glittering ballroom floor reflecting the moonlight on the inside, to the exclusive two-way mirrored rooftop enclosure reflecting the Pacific Ocean on the outside, ONYX makes the most of its warm golden vantage point above the palm trees and sandy beaches of the seafront. The 1950s-style booths with mobile cubed seating and table furniture, the super Pacific Perch VI lookout area, the Paul Evans-inspired custom brass-plated fireplace and bar, the mid-century modern features with authentic 1970s fibre optic lighting and the jewel-tone iridescent prismatic carnival glass all add further stylish details to ensure each and every guest has a truly memorable ONYX experience.
Sip on a Crystal Tipp – one of ONYX's signature gossamer cocktails paying homage to the languorously 1970s animated British cult classic Crystal Tipps and Alistair. This ethereal delicacy combining cranberry juice, pineapple juice, vodka and X-Rated Fusion liqueur, rested under a candy floss coronet, is hand-spun for daydream believers. Throw into the mix renowned international DJ Jay Strongman (an original legend of the British club scene incorporating hip hop, rock, punk, disco and soul) and find yourself transported to your own Shangri-La: a secret haven in the Pacific far away from the pressures of modern life. What was the year again? 1955 – one of Marilyn Monroe's favourite bars? 1980 – another favourite escape for Bill Murray, Diane Keaton, Gene Hackman and Randy Newman, who even brought his piano to stay here for months at a time. Or 2016 where Richard Branson was recently spotted taking in the magnificent sunset from the iconic rooftop bar? Real world or dream world – discover ONYX and be taken to new heights.
-ENDS-
For further information, images and interview requests please contact:
Suzanne Kerins
E: Suzanne(at)Kerinsmedia(dot)com
T: +44 (0) 796 735 8766
Notes to Editors:
With its rich history and enviable location, the Hotel Shangri-la has been the ultimate clandestine relaxation retreat for 77 years. Overlooking the Pacific since 1939, the hotel is a striking beacon of Art Deco elegance, a chronicle of the golden era of Hollywood – a quintessential nexus of culture. It boasts 71 guest rooms and suites, a lush courtyard with pool and cabanas, gourmet restaurant and Santa Monica's only open-air rooftop bar and lounge. Tamie Adaya is CEO, President and Creative Director of Hotel Shangri-La – a member of Small Luxury Hotels of the World. She oversaw a $30 million renovation in 2008. The Santa Monica Conservancy awarded her its preservation award for an exemplary restoration of an historical property, which kept the architectural integrity of the hotel intact whilst enhancing it, and bringing in modern amenities.